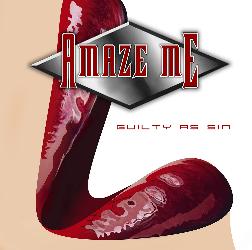 Amaze Me is Peter Broman handling the song-writing, instruments, production and Conny Lind doing the lead vocals. Lind has previously sung with Great King Rat, Raceway, Alex Masi, Lars Eric Mattson and his Vision project, Shock Tilt and State of Mind. He is still active in other projects. Aside of his work with Amaze Me, Broman is well known as a song-writer for different genres for artists all over the world which has led to chart positions world-wide like for instance on Billboard, Asian and European hitlists and music for radio/ TV commercials.
Amaze Me started out with the self-titled debut album on the Japanese based Alfa Brunette label in 1995. The way that it all happened gave the project it's name – Amaze Me. The Rumours of the Japanese release led to the boys landing a deal with the Now And Then label who released the second album "Dream On" in 1997. Album No.3 saw the light of day on Z Records in 1998, who also put out the "Amaze Me" album for the first time in Europe. A best of compilation including tracks from all three albums called "Ultimate Collection" was released on AOR Heaven Classix in 2012.
The new studioo album "Guilty As Sin" was recorded in Peter Broman's own studio. No time limits had been set for the release of the album, so the result could be able to live up to the phrase – "straight from the heart . . .".
The mastering has been taken care off by Martin Kronlund.
Tracklist: 01. Everybody, 02. Lost In A Dream, 03. Can't Stop Loving You, 04. Save Me, 05. Endless Love, 06. With Or Without You, 07. The Pain, 08. Guilty As Sin, 09. On The Run, 10. Dying To Be Loved, 11. Love Is Blind, 12. On Fire
Discography: Amaze Me (1995), Dream On (1997), Wonderland (1998), Ultimate Collection (2012), Guilty As Sin (2013)
www.metalheaven.net