ARTIZAN "Ancestral Energy – Cover, Tracklist, promo trailer, release date: May 10th 2013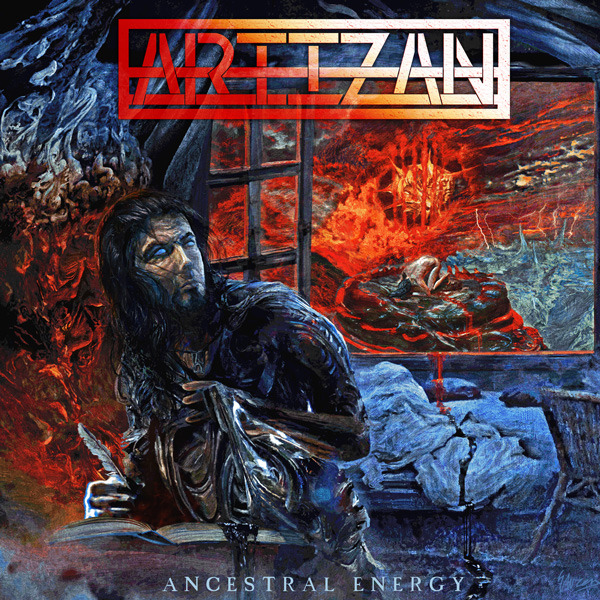 Ancestral Energy will be released on CD an as digital download on May 10th, 2013. And for those old school fans, a vinyl version is planned as well. All fans of melodic metal that enjoy music with heart, brains, and devotion should definitely mark this release date on their calendar. You won't find any better metal this year!
ARTIZAN had a surprise hit two years ago with their debut album entitled "Curse of the Artizan". Metal fans loved the melody lines, great riffs, and ideas – ARTIZAN was more than what has come to be expected from such bands. The songs were memorable and spirited and embodied the pure art of heavy metal and showcased the fascinating voice of Tom Braden.
On their second album entitled Ancestral Energy we find exactly these same attributes with even more. The style is the same and is what we have come to love about ARTIZAN, but Ancestral Energy is no carbon copy of Curse of the Artizan. Ancestral Energy will definitely surprise its listeners. The melody lines are more sophisticated and will carry you away; the arrangements are more intense, but will still keep you feeling uplifted. Songs like the opener "I am the Storm," "Deep Ocean Dreams" or the single "The Death of Me" will have you singing them out loud, but every time you hear them you will find something new; these songs simply do not wear off. The monumental title track, which includes a very well-done guest performance by ex-ICED EARTH singer Matt Barlow, is clearly a masterpiece and not only showcases Braden and Barlow's vocal prowess, but presents all the band's strengths as a whole. And the variable drumming of Ty Tammeus is something which you won't find so easily with other bands.
Productions these days often seem only to sound like compressed plastic or an imitation of music from 40 years ago. This latest release by ARTIZAN shows you how it's done properly! Ancestral Energy has a production which is authentic and natural, but also powerful and balanced. That's how melodic metal is
supposed to sound in the year 2013!
COVER ARTWORK: Eliran Kantor
TRACKLIST:
1. I am the Storm
2. The Raven Queen
3. The Guardian
4. The Death of Me
5. Deep Ocean Dreams
6. You can't take the Metal
7. Ancestral Energy
Total Playing Time: 40:23 min
LINE-UP:
Ty Tammeus – Drums
Tom Braden – Vocals
Shamus Mcconney – Guitar
Jon Jennings – Bass
very special guest: Matt Barlow (ASHES OF ARES, ex-ICED EARTH)
ARTIZAN – Ancestral Energy – new album – out on May 10, 2013 @ Pure Steel Records