BLUES PILLS – sign worldwide record deal with Nuclear Blast!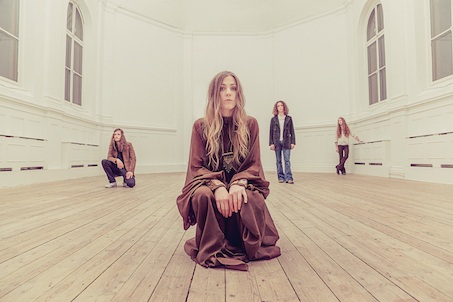 Foto: Linda Akerberg
Today it is with great honour to announce the signing of the up and coming blues rock outfit of the year: BLUES PILLS!
Without any support from neither labels nor booking agencies, multicultural rising stars BLUES PILLS have toured relentlessly, released much sought-after underground EP »Bliss« and thus became the most talked about band in the scene.
Mashing the sounds of legendary rock & soul pioneers such as Janis Joplin, Aretha Franklin, THE ORIGINAL FLEETWOOD MAC or LED ZEPPELIN while incorporating their own, distinctive marks, BLUES PILLS put back excitement into rock music.
The band consists of Swedish singer Elin Larsson whose unique voice captures the listeners ears with as much soul, blues and rock as if she'd invented the whole thing, just 18 turned French guitarist Dorian Sorriaux, who brings a whole new set of power and freshness to the table and US american stepbrothers Zack Anderson (bass) and Cory Berry (drums) as the driving rhythmic force behind the overall experience called BLUES PILLS.
Watch out for BLUES PILLS concerts near you this August before the band returns to Europe alongside label mates ORCHID and SCORPION CHILD.
A new EP is in the early stages of making as this announcement is spread. Keep your eyes open for more information to come soon.
Commented the band: "It is with bliss that we announce signing with Nuclear Blast Records. It's a dream come true in the literal sense of the words. Since we started the band we have always casually made jokes about one day getting signed to Nuclear Blast, though truthfully we never thought it would happen. So be careful what you wish for, people, it might just come true!"
Added Nuclear Blast A&R Jaap Wagemaker: "Nuclear Blast is very stoked to announce that we have been able to sign one of the hottest 70s rock bands of this moment …….BLUES PILLS!! The band already impressed a lot of people with their shows at this years Roadburn and Desertfest which made them one of the most talked about bands in this style of music these days! We already had been following the band since the release of their EP and when met with the band after we saw them play an amazing show we soon found out that we were all on the same wavelength about how to bring the band to the next level! Blues Pills is a band of 4 very young musicians whose music is very much rooted in the end of the 60s and the 70s! Although them all being very young they really know how to write great songs and the vocals of Elin, who sounds like a mixture between Adele and Janis Joplin top it all!! Needless to say that we are extremely proud that such a very talented and young band has joined the Nuclear Family! We will soon release an EP and be sure that you will not miss them on tour with ORCHID and SCORPION CHILD!!"
Check out BLUES PILLS live in Gothenburg: http://www.youtube.com/watch?v=B6ZQtk2kU-Y
BLUES PILLS live:
02.08.2013 D Kötzting, Void Festival
04.08.2013 PL Krakau, Lizard King
05.08.2013 PL Warschau, Harenda
06.08.2013 PL Gdynia, Desdemona
07.08.2013 D Berlin, Bi Nuu
10.08.2013 B Geel, Yellowstock Festival
17.08.2013 F Cernoy, Celebration Days Festival
18.10.2013 D Bonn, Harmonie/Crossroads Festival (WDR Rockpalast)
01.11.2013 D Essen, Turock*
02.11.2013 B Vosselaar, Biebob*
03.11.2013 UK London, Dingwalls*
04.11.2013 F Paris, Glazart*
05.11.2013 CH Zürich, Mascotte*
07.11.2013 DE Lindau, Club Vaudeville*
08.11.2013 DE Köln, Gebäude 9*
09.11.2013 DE München, Backstage Halle*
10.11.2013 NL Kerkrade, Rock Temple*
12.11.2013 DE Trier, ExHaus*
13.11.2013 DE Hannover, Faust*
14.11.2013 DE Berlin, C-Club*
15.11.2013 DE Würzburg, Hammer Of Doom*
*w/ ORCHID & SCORPION CHILD
MUSICIAN'S AND PRESS STATEMENTS:
"BLUES PILLS have not only surprised me at Desertfest. They were the best band of the entire festival!"
Götz Kühnemund, Editor in Chief, ROCK HARD (GER)

"The explosive offspring from a cosmic ménage à trois between the JIMI HENDRIX EXPERIENCE, SHOCKING BLUE and early FLEETWOOD MAC; poppin' some of these pills will free your mind (and your ass will most likely follow)."
Ludwig Dahlberg, FREE FALL/ THE (INTERNATIONAL) NOISE CONSPIRACY

"BLUES PILLS is a cool band, with a ripping youngster on guitar… I'll throw these folks my vote."
Scott Holiday, RIVAL SONS

"BLUES PILLS is one of the most interesting new acts from Sweden. Heavy well played blues, a new favorite!"
Ola Henriksson, WITCHCRAFT

"BLUES PILLS sounds like a super group straight out of 1967 San Francisco – BIG BROTHER AND THE HOLDING COMPANY, thrown to the dirty floor to be mopped up by the JIMI HENDRIX EXPERIENCE band. It's great to see a band doing the 60s thing with such reverence for authenticity."
Carter Kennedy, ORCHID

"BLUES PILLS have managed to capture an amazing authentic feel and sound to their style of blues rock. If no one had told me they are so young I would have bet my balls on them being some old lost re-mastered treasure from the early 70's."
Niclas Etelävuori, AMORPHIS

"I like this a lot! Sounds like 60´s and 70´s with an own twist!"
Sebastian "Charlie" Schwanitz, DIE NEUE 107.7 RADIO STUTTGART (DE)

"The true successor to BIG BROTHER AND THE HOLDING COMPANY. Sensational!"
Thomas Moser, HEAD OF MUSIC, ROCK ANTENNE RADIO (DE)

"Soulful 70s blues rock meets rolling BLACK SABBATH basslines and vintage Heart. Superb!"
Christian Fischer, CLASSIC ROCK/PIRANHA (DE)
"Retro-Rock prescription? Killer!"
Frank Thießies, METAL HAMMER (DE)

"BLUES PILLS are one of the best female-fronted rock groups of the scene today, paying homage to the founders of 60's and early 70's psychedelic/hard rock music, while forging ahead into the future with their own unique sound."
Mike Varney/SHRAPNEL RECORDS

"With our fondness for Swedish rock it's not surprising that BLUES PILLS are appearing at Roadburn 2013 and not just because they are Swedish…but because they bring out the best heavy 70´s inspired rock we have heard in a long time."
ROADBURN FESTIVAL

"Their amazingly fresh, 60´s and 70´s inspired blues rock holds the perfect vibe for our festival."
DESERTFEST BERLIN

"Authentic, classic, very young and very talented!"
Henning Furbach, PIRANHA (GER)

"BLUES PILLS create goose bumps and sweet wads of smoke! A highly explosive mix of the great COVEN, JANIS JOPLIN and the current retro/psychedelic wave."
METALNEWS.de

"BLUES PILLS got something what others are lacking; they touch your soul!"
METAL.de

"The band's blues driven heavy-psych is superbly executed with ripping fuzz guitar and barn-burning arrangements".
SHINDIG! MAGAZINE

www.bluespills.com | www.facebook.com/bluespills | www.nuclearblast.de/bluespills