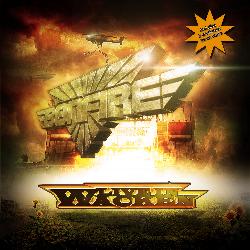 Sometimes you just need a little bit of luck. Because of a funny coincidence the long lost original recordings from BONFIRE's appearance at the Wacken Open Air have been discovered. This almost historical piece of music has been sonically updated and will now be released officially.
The German rock legend is releasing the album as a teaser before it's new studio record ‐ planned for the end of the year. Of course, there have been some BONFIRE‐live records in the past, but on "Live In Wacken" you can really find different versions of the band's anthems like "SDI", "Champion" or "Ready 4 Reaction" as well as the song "Wake Up". An anthem the band hasn't performed live for quite a long time.
Besides that "Live In Wacken" offers exclusive bonus tracks. Live versions of the songs "Bells Of Freedom", "Let Me Be Your Water" and "Black Night" from the acclaimed rock opera "The Räuber" (previously unreleased on CD), the exclusive studio track "Thank You" and an exciting new version of the ballad "Hold Me Now" from the last BONFIRE‐studio album "Branded".
"Live In Wacken" has been mastered by Maor Appelbaum (Yngwie Malmsteen, Rob Halford, Queensryche) and will be released on the 31st of May 2013 on LZ Records/Sony Music.
Track list: 1. Intro/Wake Up (Live), 2. Never Mind (Live), 3. Sweet Obsession (Live), 4. In Zaire (Live), 5. The Stroke (Live), 6. Sword And Stone (Live), 7. SDI (Live), 8. Drum Solo (Live), 9. American Nights (Live), 10. Ready 4 Reaction (Live), 11. Obsessive Prelude (Live), 12. Champion (Live), 13. The Räuber/Bells Of Freedom (Live), 14. Let Me Be Your Water (Live), 15. Black Night (Live), 16. Thank You (Previously Unreleased), 17. Hold Me Now (Extended Mix 2013)
Bonfire are:
Claus Lessmann – vocals, guitar; Hans Ziller – lead guitars; Chris Limburg – rhythm guitars; Uwe Köhler – bass; Harry Reischmann – drums
(Rhythm guitars (tracks 1‐7, 9, 10, 12): Chris Lausmann; Drums (tracks 1‐10, 12‐16): Jürgen Wiehler)
The Live Tracks recorded @ Wacken (1‐11) @ Ingolstadt (12‐14)
Mixed by Hans Ziller for LZ Records (tracks 1‐12)
Mastered by Maor Appelbaum Mastering, California/USA, www.maorappelbaum.com
Produced by Lessmann/Ziller for LZ Records
Internet‐Links:
www.bonfire.de
www.facebook.com/BONFIREofficial
www.youtube.com/user/Bonfireofficial
www.youtube.com/user/Oberloewe
www.twitter.com/BonfireBand
www.reverbnation.com/hansziller
BONFIRE – live 2013 (more to come):
18.05.2013 CZ-Dobrany – 24 Hours Offroad Maraton
07.06.2013 AT-Telfs – Rathaussaal (with Skid Row, The Quireboys)
30.06.2013 UK-Nottingham – Rock City (with Snakecharmer)
12.07.2013 D-Ingolstadt – Stadtfest
10.08.2013 D-Berlin – Expocenter Airport (with Die Apokalyptischen Reiter, Firewind)
24.08.2013 CZ-Mnichovice/Praha – Rockování
27.09.2013 FL-Triesen – Triesner Saal (with Pretty Maids)