LANESLIDE is one of the most exciting Melodic Rock collaborations in recent years, the feedback from the international print media, the online Rock magazines, the radio stations and the fans alike is nothing but phenomenal.
The line-up put together by Italian songwriter/ guitarist Bruno Kraler (Brunorock) for their debut album, includes vocalist extraordinaire Frank Vestry (Marcello/Vestry, Last Temptation), Alessandro Del Vecchio (Hardline, Lionville, Edge of Forever) on keyboards, John Billings (Rick Springfield, Donna Summer, Lancia) on bass, Dominik Hülshorst (ex-Bonfire) on drums, as well as Lino Gonzalez and Bobby Altvater on guitars and Erik Mårtensson & Michael Bormann on backing vocals.
The band is now presenting its debut record which was released on April 12th through the Avenue Of Allies label in a brand new video trailer, which can be watched here:
www.youtube.com/watch?v=j2nJzwZzhBI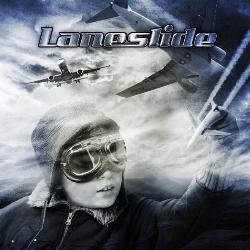 The album is available worldwide as CD from well-assorted record stores and from various specialised mail order companies as well as the big online retailers. "Flying High" is also available as Digital Download.
"LANESLIDE – Flying High" press reviews from around the world :
"Laneslide have pedigree to spare. They have the songs too, ensuring that "Flying High is a slick and irresistibly satisfying opening statement." (Dave Ling, Classic Rock, United Kingdom)
"Attention: "Flying High" is one of the best Melodic Rock albums since Seventh Key's "The Raging Fire" in 2004". (Götz Kühnemund, Rock Hard, Germany)
"A quality album full of AOR prowess" (Rob McKenzie, Fireworks, UK)
"The ten songs are straight Melodic Hard Rock that reminds of TREAT at the times of "Organized Crime" and TOUR DE FORCE's "Unreleased". (AOR Heaven, Germany)
"The quality of the songs is on an unbelievably high level for a debut album". (Heiko Füchsel, Rock It!, Germany)
"This is well-crafted and well-played Melodic Rock from some quite talented musicians." (Craig Hartranft, Danger Dog, USA)
"Laneslide delivers tougher AOR with a big sound and filled with catchy hook lines… A big happy surprise and I recommend this highly." (Juha Harjula, melodic.net, Sweden)
"Everyone into AOR packed Hard Rock will get a real kick out of this album" (Petra Rottmann, Break Out, Germany)
"This is how today's Melodic Hard Rock should sound. Highly recommended !!" (Heavy Paradise, Greece)
"It is hard to find AOR that is better made than this… a great piece of musical entertainment that I can recommend to anyone." (Daniel Källmalm, Hallowed, Sweden)
"A remarkable album for friends of Melodic Hard Rock… Strong songs, great melodies and Stadium Rock of the highest order". (Shylock, Metalglory, Germany)
www.facebook.com/Laneslide
www.avenue-of-allies.com