The best way to finish the year ? Enjoying A PERFECT DAY – the Labyrinth members new band's debut out in November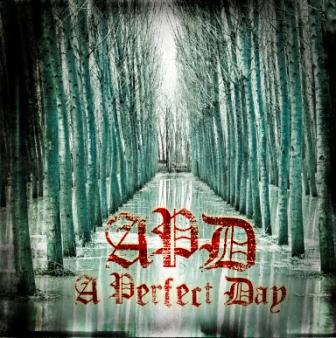 Frontiers Records is excited to announce the release of A PERFECT DAY Self Titled debut album on November 19th in North America and November 23rd in Europe.
                The concept of A PERFECT DAY came about when Andrea Cantarelli – guitarist and co-founding member of the Italian Heavy Metal band Labyrinth – presented the new songs and riffs he was working on to his bandmate Roberto Tiranti. The musical direction was evidently different from what they have been developing on Labyrinth's recent releases, more in line with Hard Rock rather than Power Metal.
                Roberto immediately loved the music that Andrea played him and started to work on songs and melodies which during 2011 and 2012 brought life to the debut album which finally sees the light of day now on Frontiers Records.
                "Labyrinth is my band, but now it is not enough" says Cantarelli. "APD is what I need today. I need another band, a real band in order to express my creative juices. Musically speaking we are now in Hard Rock territory, however I have tried to give the sound a more dynamic and modern edge, not far away from acts like Alter Bridge or Stone Sour". But melody still plays a leading role in A PERFECT DAY music. Although, on the one hand, melodies are sometimes very relaxed, they are in contrast, with the wall of sound created by the heavy guitar riffing.
                A Perfect Day lineup is completed with Alessandro Bissa (Labyrinth, Vision Divine) on drums.
                The guys plan to have their live debut around the release of the album. "If there will be opportunities to promote the album live we will take them!" concludes Andrea Cantarelli. "We are aware if will not be easy but we are working on it".
                A Perfect Day self titled debut album includes the following tracks :
Another Perfect Day; Now And Forever; Long Road To Ruin; Alone And Free (Rockblind); Silent Cry; Under The Same Sun; Here We Are Again; Waiting On The Edge; Warm Embrace; We Only Say Goodbye
                Enjoy NOW APD's first single "Silent Cry" streaming on the Frontiers Records webradio www.frontiers.it/webradio
A PERFECT DAY
Roberto Tiranti: Vocal – Bass
Andrea Cantarelli: Guitars
Alessandro Bissa: Drums
Weblink: www.facebook.com/APDBand