ANTHRAX – Scott Ian to conduct UK spoken word tour!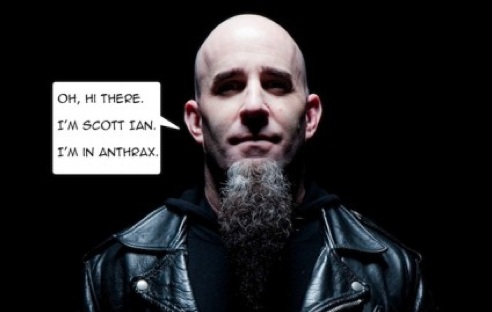 ANTHRAX guitarist and metal legend Scott Ian will hit the UK on his spoken word tour, surprisingly entitled "Speaking Words".
Commented Ian: "I guarantee everyone who comes to my show will have a good time. There's a saying, 'there's no story so good a drink won't make it better'. My stories, plus drink, equals killer night out. Besides, don't you want to know how tomato sauce can kill any STD? I have the answers."
24.05. UK Oxford – O2 Academy
25.05. UK Cardiff – The Gate
26.05. UK Gloucester – Guildhall
27.05. UK Plymouth – White Rabbit
28.05. UK York – The Dutchess
29.05. UK Rugby – The Vault
02.06. UK Stoke – Underground
03.06. UK Manchester – Sound Control
04.06. UK Newcastle – The Cluny
05.06. UK Glasgow – The Arches
06.06. UK Coke – Cyprus Avenue
07.06. UK Belfast – Limelight
08.06. UK Dublin – Button Factory
10.06. UK Bournemouth – O2 Academy
11.06. UK London – The Garage
Tickets can be purchased via www.scott-ian.com.
www.anthrax.com | www.facebook.com/anthrax | www.nuclearblast.de/anthrax