APOCALYPTICA – NEW SINGLE AND ORCHESTRA TOUR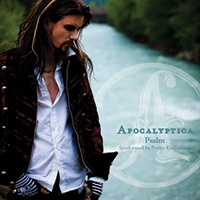 As most of you know, Perttu has been playing a beautiful new song during the last tour – it's called "Psalm" and the band has now decided to release it. Paavo has produced the atmospherically dense clip: filmed back at the Sibelius Academy, where the band once recorded their first album, Paavo took care of everything from direction to post production. "Psalm" is out now on iTunes and the video can be checked out on youtube.
For the first time in their career, Apocalyptica are going on tour with a classical orchestra. The collaboration with the prestigious Finnish "Avanti! Orchestra" will feature instrumentally performed Apocalyptica songs, especially arranged for the band and the 25-piece orchestra. The long-cherished project will be premiering live in Finland next March. Following the shows in Finland, the tour will proceed to Russia, Germany, Poland, Belarus and the Baltic states. Please click here for the full list of shows.
Presales for these unique live events have already started – for now, tickets will be available via www.apocalyptica.com exclusively.