ASHES OF ARES – stream their entire new record on Terrorizer.com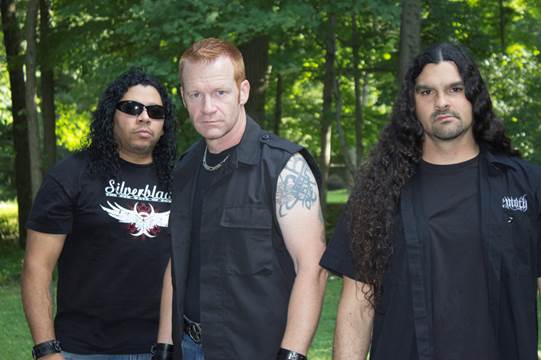 ASHES OF ARES stream their entire upcoming debut »Ashes Of Ares«, which will be released September 6, 2013 via Nuclear Blast as a stream on Terrorizer.com.
Check out this link to listen to the album: http://www.terrorizer.com/news/streams/ashes-of-ares-stream-new-album-with-terrorizer/
»Ashes Of Ares« will be released as a limited CD in digipak incl. a bonus track as well as in two different 2LP versions. The tracklist reads as follows:
01. The Messenger
02. Move the Chains
03. On Warrior's Wings
04. Punishment
05. This is my Hell
06. Dead Man's Plight
07. Chalice of Man
08. The Answer
09. What I Am
10. The One-Eyed King
bonus track
11. The Answer (acoustic version)
Get the album here: http://smarturl.it/ashesofares
Or via iTunes: http://bit.ly/ashesofares (incl. digital booklet)
Representing the culmination of experiences, trials and tribulations of founding members Matt Barlow (ex ICED EARTH), Freddie Vidales (ex ICED EARTH) and Van Williams (ex NEVERMORE), newly founded heavy metal powerhouse ASHES OF ARES is all set to take the world by storm in 2013! Within months of their departures from the iconic metal bands they had played in before, the three of them came together with a renewed drive to create a sound which is a true collaboration of their personal influences, ideas and visions. Armed with the knowledge acquired through years of the writing, touring and recording cycle, and with the support of an army of loyal fans across the globe, ASHES OF ARES is poised to carve out a new legacy and stand alongside those who have helped pave the way.
Recorded in Tampa-based "Morrisound Recording" studios together with producer Jim Morris (ICED EARTH, KAMELOT, MORBID ANGEL), the self-titled debut record »Ashes Of Ares« not only embraces the band members' own musical experiences from the past, but was also influenced by some of the shining leading figures in metal, as Freddie Vidales states: "When we were writing this album, influences were popping in and out of my head so often that when I listen back to the songs now, I can tell exactly who inspired certain riffs. Bands such as IRON MAIDEN, SLAYER, SAXON, BEHEMOTH, MACHINE HEAD, DEATH ANGEL and QUEENSRYCHE are just some that I can listen to our riffs and pinpoint which of their songs I got the ideas from." Lyrically, the album can be considered no less multifaceted than on the musical level. "Though the album doesn't follow a strict concept, there are certain themes running throughout the lyrical content", Matt Barlow explains. "Some of the topics are good and evil, life and death, betrayal, victory, loss and defiance. In short – pure heavy fuckin' metal!" After already having been celebrated for their new songs at this year's Rock Hard Festival before the album was even officially announced, ASHES OF ARES will doubtlessly send the audiences into rapture on their upcoming European tour together with POWERWOLF, MAJESTY and BATTLE BEAST in September and October. Prepare for the triumphal march of a new force in heavy metal – rising from the ASHES OF ARES!
www.ashesofares.com | www.facebook.com/ashesofares | www.nuclearblast.de/ashesofares