BATTLE BEAST – first track-by-track video online!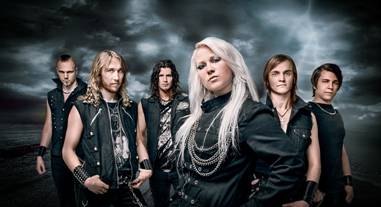 The beasts are back! After last year's release of their brilliant debut record »Steel« and highly celebrated European tours together with NIGHTWISH and SONATA ARCTICA, BATTLE BEAST – Finland's finest in heavy metal – return with new astonishing lead vocalist Noora Louhimo and their second full-length album. Produced and mixed by the band in JKB Studios Helsinki and mastered by Mika Jussila at Finnvox Studios, the new record will be entitled »Battle Beast« and is set for a release via Nuclear Blast on May 17, 2013.
The band has now uploaded the first part of their great track-by-track series to YouTube, featuring bassist Eero Sipilä and keyboardist Janne Björkroth presenting snippets of the tracks:
01. Let It Roar
02. Out Of Control
03. Out On The Streets
04. Neuromancer
Watch it here:http://youtu.be/1DdCoc-dquc
Stay tuned for part two!

Also make sure to check out
the first album trailer: http://bit.ly/101qnBX
the album artwork trailer: http://bit.ly/14bNu4y
www.battlebeast.fi | www.facebook.com/battlebeastofficial | www.nuclearblast.de/battlebeast