BEHEMOTH – release 'Blow Your Trumpets Gabriel' video; »The Satanist« now available for pre-order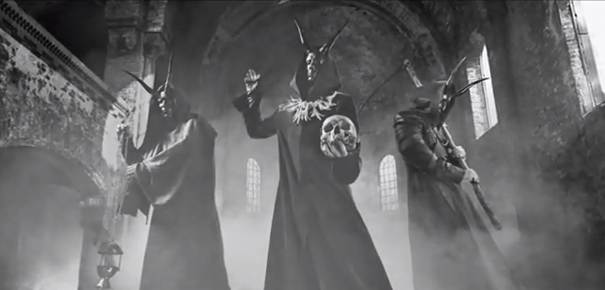 BEHEMOTH's highly anticipated new video for 'Blow Your Trumpets Gabriel' has been unveiled. This visual masterpiece was produced by http://www.grupa13.com/ and is one of BEHEMOTH's most unsettling and unique works to date.
BEHEMOTH front man Nergal discusses the video: "Yes, we took all the time in the world to complete this project. And we did everything that was humanely possible to accurately express our vision. We crossed the Rubicon. 'Blow Your Trumpets Gabriel' is an ecstatic manifest of our unrestrained artistic will, where we dare to reach out beyond the limitations of the heavy metal genre. And it's only the beginning… Enjoy!"
Watch 'Blow Your Trumpets Gabriel' now at YouTube http://youtu.be/Czx-OIyrQwQ and VIMEO: http://vimeo.com/80943193
Additionally, BEHEMOTH's long-awaited new album, »The Satanist«, is now available for pre-order, include: CD, Digipack, LP , as well as the deluxe box set, and are available at, http://bit.ly/IE69gs
In Europe.
»The Satanist« will be unleashed on February 3rd in the UK, February 4th in North America and Poland, February 5th in Japan, and February 7th in Europe and the rest of the world. Also, 'Blow Your Trumpets Gabriel' has been released on iTunes and can be purchased here: https://itunes.apple.com/us/artist/behemoth/id42255142
»The Satanist« deluxe box, which is available in North America as an European import, includes: CD/DVD digibook in silver mirror slipcase with a high quality 44 page booklet (with gold foil, UV gloss lamination), supersize poster flag (approx. 3.5′ x 5′), wooden black inverted rosary cross, metal pin, black envelope with black communion wafers. The DVD, "Live Barbarossa," includes a professionally filmed show in Ekaterinburg, Russia, as well as 30 min documentary about the creative process behind »The Satanist«.
The album was produced by BEHEMOTH, Wojtek and Slawek Wieslawscy and Daniel Bergstrand in Hertz Studio. »The Satanist« was mixed by Matt Hyde (SLAYER) and mastered by Ted Jensen (METALLICA, AC/DC) at Sterling Sound. The cover art for »The Satanist« was painted by renowned Russian painter and occultist, Denis Forkas (denisforkas.com). The paint used included some of Nergal's own blood! Additional art and design was completed by Metastazis (PARADISE LOST, etc.) and Zbigniew Bielak (WATAIN, GHOST).
Fans can still order the limited edition 12″ EP of 'Blow Your Trumpets Gabriel' (1,000 white and 1,000 black, 180 gram vinyl) that will be released as a gatefold with each copy hand numbered and signed by the band. The 12″ EP can be pre-ordered via Nuclear Blast Europe webstore http://www.nuclearblast.de/en/products/tontraeger/vinyl/mini-lp/behemoth-blow-your-trumpets-gabriel.html
»The Satanist« track listing:
1. Blow Your Trumpets Gabriel/
2. Furor Divinus
3. Messe Noire
4. Ora Pro Nobis Lucifer
5. Amen
6. The Satanist
7. Ben Sahar
8. In the Absence ov Light
9. O Father O Satan O Sun!
www.behemoth.pl | www.facebook.com/behemoth | www.nuclearblast.de/behemoth