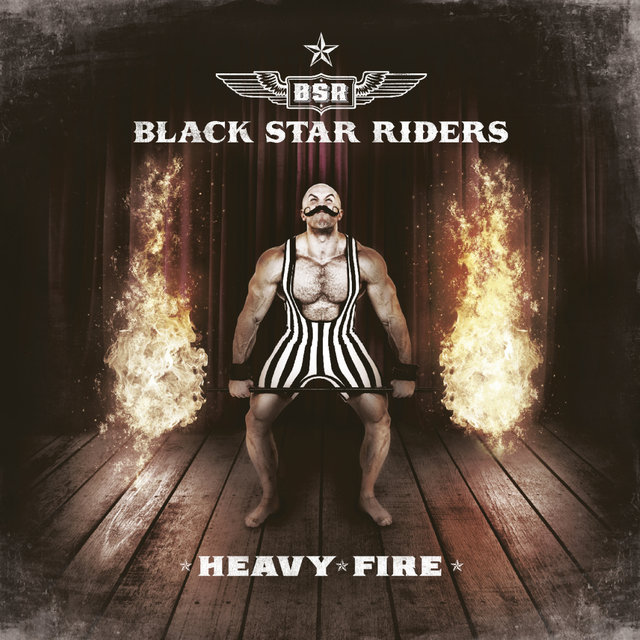 BLACK STAR RIDERS il video di 'Heavy Fire'
Gli hard rockers BLACK STAR RIDERS pubblicheranno il loro attesissimo terzo album "Heavy Fire" il 3 febbraio su Nuclear Blast/Warner. Oggi la band presenta il nuovo lyric video per la canzone 'Heavy Fire', la terremotante opener del disco:
Pre-ordini: http://nblast.de/BSRHeavyFireNB
Pre-ordini digitale: http://www.nuclearblast.de/de/label/music/band/downloads/2825266.black-star-riders.html
Trailer #1: https://youtu.be/PXFHrJfMtVY
Trailer #2: https://youtu.be/NHb15oJTD8s
Trailer #3: https://youtu.be/yWm1diFNtK4
Trailer #4: https://youtu.be/xp_4OMk6T5U
Lyric video 'When The Night Comes In': https://youtu.be/aR-w6_IH7hE
Video ufficiale 'Testify Or Say Goodbye': http://youtu.be/SvcNNeiMl90
I riff immediati dell'opener 'Heavy Fire', il primo singolo 'When The Night Comes In', lo sporco groove del basso di 'Thinking About You Could Get Me Killed' e le chitarre che sono ormai un marchio di fabbrica di Gorham e Johnson in 'Testify Or Say Goodbye' mettono in luce come questo disco sia destinato a cementare la reputazione dei BLACK STAR RIDERS come una delle migliori band rock del mondo.
Dopo i loro album acclamati dalla critica "All Hell Breaks Loose" e "The Killer Instinct" che hanno consentito ai BLACK STAR RIDERS di essere riconosciuti come una vera potenza nel rock'n'roll moderno, "Heavy Fire" verrà ancora una volta pubblicato da Nuclear Blast Entertainment. La band attraverso PledgeMusic, una delle piattaforme più innovative e di successo che il mondo della musica oggi conosca, offre ai fan alcuni prodotti speciali e esperienze esclusive legate all'uscita dell'album.
Tracklist:
CD
1. Heavy Fire
2. When The Night Comes In
3. Dancing With The Wrong Girl
4. Who Rides The Tiger
5. Cold War Love
6. Testify Or Say Goodbye
7. Thinking About You Could Get Me Killed
8. True Blue Kid
9. Ticket To Rise
10. Letting Go Of Me
11. Fade * Bonus Track Limited Edition Digibook CD
Limited Edition Gatefold Vinyl
Limited Edition Picture Disc
Side One
1. Heavy Fire
2. When The Night Comes In
3. Dancing With The Wrong Girl
4. Who Rides The Tiger
5. Cold War Love
Side Two
1. Testify Or Say Goodbye
2. Thinking About You Could Get Me Killed
3. True Blue Kid
4. Ticket To Rise
5. Letting Go Of Me