BLACKMORE'S NIGHT to launch the first single off the new album "Dancer and the Moon"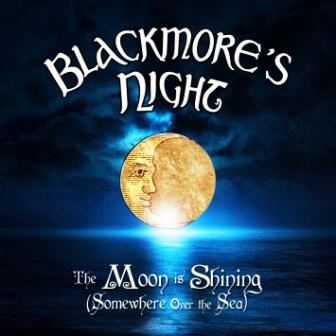 Frontiers Records is pleased to announce the digital release of the first single from BLACKMORE'S NIGHT new album "Dancer and the Moon" entitled "The Moon Is Shining (Somewhere Over the Sea)". This beautiful new song is "Based on an old folk Czech melody which Candice and I thought were very melodic and haunting" says Ritchie Blackmore. "We adapted and arranged to suit more of a rock structure. We also played it as a ballad as it was originally intended. We asked several of our Czech friends what it was called but they couldn't tell us, so it remains a mystery".
The single can be downloaded now from every fine shop such as iTunes or Amazon and streamed legally via Spotify and Deezer. It is also possible to enjoy a sample of the song, following this link:
www.frontiers.it/download/The_Moon_Is_Shining_sample.mp3
"Dancer and the Moon" will be released on June 11th in North America and June 14th in Europe in regular cd configuration and deluxe edition in digipak, including a bonus DVD featuring a 40 mins "making of the album" documentary and acoustic versions of "The Spinner's Tale", "Somewhere Over The Sea/Moon Was Shining", "The Ashgrove" and "Queen For A Day". The album will also be made available in a super-deluxe edition strictly limited to 2000 copies  packaged in a polyston frame with the cover artwork printed on canvas and including a black tote bag with Blackmore's Night artwork, 4 Blackmore's Night pins, a certificate of authenticity and of course the CD/DVD edition.
BLACKMORE'S NIGHT confirmed tour dates for Europe include:
Palace of Ukraine, Kiev (Ukraine) – 15th June
Crocus City Hall, Moscow (Russia) – 18th June
BKZ Oktyabrsky, St Petersburg (Russia) – 20th June
Carnegie Hall, Dunfermline (Scotland) – 26th June
Mill Volvo Tyne Theatre, Newcastle (England) – 28th June
Wolverhampton Grand, Wolverhampton (England) – 1st July
City Hall, Salisbury (England) – 3rd July
G Live, Guildford (England) – 5th July
Hugenottenhalle, Neu Isenburg (Germany) – 9th July
Serenadenhoff, Nurnburg (Germnay) – 11th July
Congresshalle, Saarbrucken (Germany) – 13th July
Kongress am Park, Augsburg (Germany) – 14th July
Burg Creuzburg, Creuzburg (Germany) – 19th July
Albrechtsburg, Meissen (Germany) – 21st July
Beethoven Saal, Stuttgart (Germany) – 23rd July
Weblinks: www.blackmoresnight.com  /  www.candicenight.com