BLACKMORE'S NIGHT new album DANCER AND THE MOON released on June 14th in Europe and June 11th in North America gathered very good chart entries in the week of release all around the world. Below you can find a resume: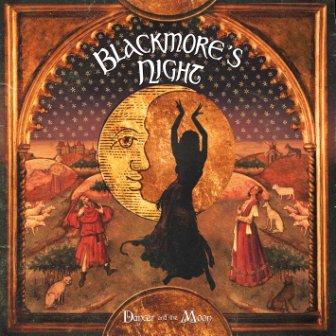 Germany # 13
Sweden # 22
Norway # 24
Czech Rep. # 29
Finland # 31
Austria # 39
Switzerland # 40
UK # 89 / #16 Top 50 Indie chart
Netherlands # 102
US # 189 / # 40 Indie chart / # 3 on Billboard New Age charts
BLACKMORE'S NIGHT released an official statement regarding the various chart entries: "Frontiers has done a great job in getting our music to our fans. We are happy to be charting everywhere. Thanks to everyone for your support"
The title track of the album, DANCER AND THE MOON is also released as digital single and is available now for download and streaming in all fine shops such as iTunes, Amazon, Spotify, Deezer etc.
The new album DANCER AND THE MOON is available for purchase in regular cd configuration and deluxe edition in digipak, including a bonus DVD featuring a 40 mins "making of the album" documentary and bonus acoustic versions of "The Spinner's Tale", "Somewhere Over The Sea/Moon Was Shining", "The Ashgrove" and "Queen For A Day". The album is also available in a super-deluxe edition strictly limited to 2000 copies packaged in a polyston frame with the cover artwork printed on canvas and including a black tote bag with Blackmore's Night artwork, 4 Blackmore's Night pins, a certificate of authenticity and of course the deluxe edition.
Formed in 1997 by Candice Night and Ritchie Blackmore, the two began working together first in Ritchie's previous group Rainbow, when Candice co-wrote a number of songs, most notably "Ariel" and "Black Masquerade" for Rainbow's 1996 album, STRANGER IN US ALL. DANCER AND THE MOON is the band's 8th original studio album, with each disc topping the European and American Billboard's New Age charts. When Blackmore's Night began it's journey, skeptics had their reservations that finding an audience would be impossible. Someone once wrote that "love conquers all" and Blackmore's Night's love for the music has found an audience that loves the magic this enduring couple have been conjuring up in an almost 20-year love affair. Open your ears and your hearts, there's plenty of passion to go around.
Weblinks:
www.blackmoresnight.com
www.candicenight.com
www.facebook.com/candicenightofficial
twitter.com/TruCandiceNight
www.candice-night.com
and please visit Blackmore's-Night-Official-Site on Facebook
TOUR DATES – Europe
City Hall, Salisbury (England) – 3rd July.
G Live, Guildford (England) – 5th July.
Hugenottenhalle, Neu Isenburg (Germany) – 9th July.
Serenadenhoff, Nurnburg (Germany) – 11th July.
Congresshalle, Saarbrucken (Germany) – 13th July.
Kongress am Park, Augsburg (Germany) – 14th July.
Burg Creuzburg, Creuzburg (Germany) – 19th July.
Albrechtsburg, Meissen (Germany) – 21st July.
Beethoven Saal, Stuttgart (Germany) – 23rd July.