BLUES PILLS – announce brand new EP, cover artwork posted, comment tracks!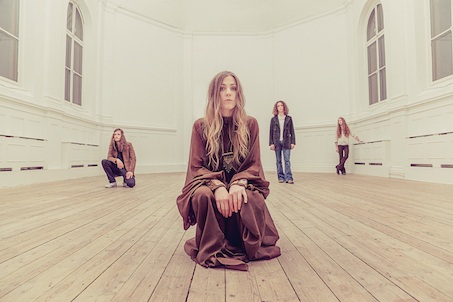 Up and coming multicultural blues rock outfit BLUES PILLS have announced the release of their brand new EP »Devil Man«.
»Devil Man« will be released on October 18, 2013 via Nuclear Blast Records and will be available as Digisleeve CD, 10" vinyl (available in different and exclusive colours) and digital download.
Pre-order the EP via http://smarturl.it/BluesPillsDevilMan
The tracklist reads as follows:
01. Devil Man
02. The River
03. Time Is Now
04. Dig In
Find the cover art (created by Kiryk Drewinski, www.kiryk.com) attached/below.
Commented the band: "'Devil Man' was one of the first songs we wrote, but it's still one of our favorites to play. It's just a simple riff, with a good melody, played with lots of energy. The message is simple, and it's about anyone who you consider to be your enemy! 'The River' is the softest and saddest song we have. The lyrics are basically about searching for answers to life's questions. 'Time Is Now' is all about living in the present, and enjoying the moment. Live today! 'Dig In' – we tried to play with the dynamics of the song quite a bit. It showcases our delicate side as well as our heavy side. The lyrics are about living according to your own beliefs as opposed to what you are told to believe, and not blindly buying into something."
Right in time for the release of »Devil Man«, on October 18, BLUES PILLS will play a special show for WDR Rockpalast at Crossroads Festival, Harmonie/Bonn, Germany.
Also be sure to catch BLUES PILLS live on tour with ORCHID and SCORPION CHILD:
ORCHID
BLUES PILLS
SCORPION CHILD
01.11. D Essen – Turock
02.11. B Vosselaar – Biebob
03.11. UK London – Dingwalls
04.11. F Paris – Glazart
05.11. CH Zürich – Mascotte
07.11. D Lindau – Club Vaudeville
08.11. D Köln – Gebäude 9
09.11. D München – Backstage Halle
10.11. NL Kerkrade – Templet
12.11. D Trier – ExHaus
13.11. D Hannover – Faust
14.11. D Berlin – C-Club
15.11. D Würzburg – Hammer Of Doom
www.bluespills.com | www.facebook.com/bluespills | www.nuclearblast.de/bluespills