WHITESNAKE GUITARIST DOUG ALDRICH'S ORIGINAL BAND BURNING RAIN TO RELEASE NEW ALBUM: "EPIC OBSESSION" IN MAY VIA FRONTIERS RECORDS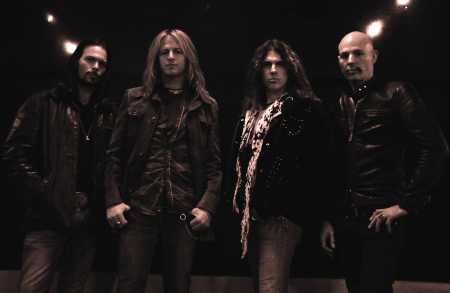 Frontiers Records is pleased to announce the release of bluesy hard rockers Burning Rain's third studio album, EPIC OBSESSION, on May 17th in Europe and May 21st in North America.  Burning Rain was founded by current Whitesnake axeman Doug Aldrich together with singer Keith St. John (ex-Montrose). The line-up for the new album is rounded out by Sean McNabb on bass (ex-Quiet Riot, Dokken, House of Lords) and Mat Starr on drums (Ace Frehley). EPIC OBSESSION comes after a long hiatus from the release of the band's second album, PLEASURE TO BURN, in 2000.  Click here to access the album art for EPIC OBSESSION and see below for the complete track listing.
Of EPIC OBSESSION, Aldrich commented, "I think we have a good batch of songs that will stand up. It's a melodic blues rock approach to the band's sound. It's really the only thing I have done outside of Whitenake in the last ten years."
Frontiers Records will be also be releasing on the same date reissues of the long out-of-print first two albums from Burning Rain, the self-titled debut (released in 1999) and the aforementioned PLEASURE TO BURN. Both albums will be repackaged and remastered and will contain two added bonus tracks to each respective album.
Burning Rain's previous efforts received great acclaim in Japan and the UK prior to Aldrich being tapped as guitarist for Whitesnake in 2002, with Melodicrock.com declaring on the PLEASURE TO BURN review: "Great quality song writing…fantastic production that rivals any others out there.  For fans of classic blues influenced hard rock there will be few albums to rival this record…"
EPIC OBSESSION tracklisting includes:
Sweet  Little Baby Thing; The Cure; Till You Die; Heaven Gets Me By; Pray Out Loud; Our Time Is Gonna Come; Too Hard To Break; My Lust Your Fate; Made For Your Heart; Ride The Monkey; Out In The Cold Again; When Can I Believe In Love: Kashmir*; Heaven Gets Me By (acoustic)*
* Bonus tracks.
For more information, please visit: