Since its release in April 2013 the international All Star AOR / Melodic Rock project CHARMING GRACE received some amazing feedback from the fans and the media alike. A little collection of quotes from around the world mirrors the great reception of the band's debut record: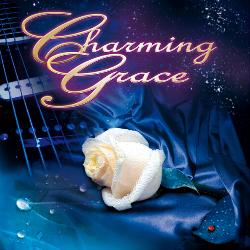 "Davide Barbieri is charged with holding things together vocally, but from the opening notes…Barbieri delivers with gusto and quality. As the vocal booth fills with members of Lionville, Boulevard, the Michael Thompson Band, Urban Tale and others, the listener is whisked back to the days of bubble perms and spandex" (Dave Ling, Classic Rock magazine, United Kingdom – 8 out of 10 points)
" The fact that Monti, Monti and Barbieri have come up with 12 absolutely killer AOR tunes is worthy of praise alone, let alone the choice of covers, but the duet concept adds excellent variety and opens up a much wider breadth of enjoyment. And its credit to Davide Barbieri that he never gets overshadowed by his sometimes more illustrious collaborators. Highly Recommended!" (Ant Heeks, Fireworks Magazine, United Kingdom – Hot Album in issue 57)
"Bringing together a who's who of AOR and melodic rock world on this somewhat different album, Charming Grace is a project which brings back reminders of that fabulous Shining Line CD from 2010." (George Thatcher, Glory Daze Music, Australia – 9 out of 10 points)
"Charming Grace: the magic created is simply beyond belief, unquestionably a charmed and graceful listening experience!" (Bruce Atkinson, Melodic Rock Fanzine, Italy – 91 out of 100 points)
"This is another excellent AOR release from 'our' Zorro and his friends. Recommended stuff!" (Chris Lambert, Rock Report, Belgium – 5.5 out of 6 points)
"Charming Grace has recorded a strong debut album and this is a MUST for everyone that owns albums with Lionville and Shining Line." (Juha Harjula, melodic.net, Sweden – 4 out of 5 points)
"Since the first moment Charming Grace reveals itself as a precious piece for every refined melodic rock collection." (Marco Aimasso, metal.it, Italy – 8,5 out of 10 points – Top Album in April 2013)
"A 'must have' of the year 2013 for fans of FM Rock, AOR and Melodic Rock. Recommended for fans of Lionville, Soleil Moon, Mecca, Foreigner, Jeff Paris and Mark Free" (Rémi Ancenay, Metal Integral, France – 19 out of 20 points)
"As expected while reading the names of the musicians involved, Charming Grace deliver an extraordinary album of pure 80s AOR, perfectly arranged and produced with wonderful melodies, hooklines galore, tasty keyboards and guitar solos" (Wolfgang Kelz, Stormbringer, Austria – 5 out of 5 points)
"The 14 duets on the Charming Grace debut are highly enjoyable AOR / 80s Melodic Rock gems offering an entertaining listening" (Petra Rottmann, Break Out magazine, Germany)
"There are indeed some very notable names on the album, I did not expect to hear the voices of Moon Calhoun (Michael Thompson Band), Bente Smaavik (Perfect Crime, Blonde On Blonde) and Henrik Launbjerg (Toys Of Joy) again on new AOR tracks. Strong songs, great vocals, a very good sound and an inventive concept guarantee a successful project." (Maarten van Mameren, Aardshock magazine, The Netherlands)
To say "Thank You" Charming Grace is now running a contest on their Facebook site to win official Charming Grace T-Shirts. You can find out more details by visiting www.facebook.com/CharmingGOfficial
Charming Grace wishes everyone a great summer and the best of luck for the contest!