CHILDREN OF BODOM – second part of Facebook fan interview online!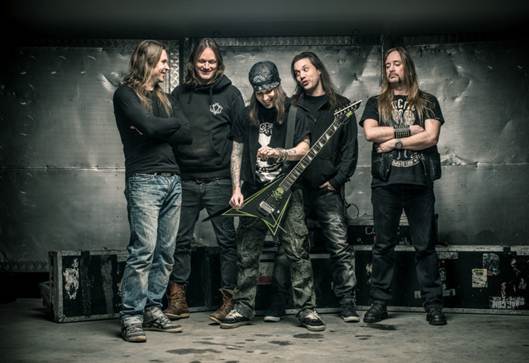 Via the official Nuclear Blast Europe Facebook page at http://www.facebook.com/nuclearblasteurope fans from all around the world had the chance to ask CHILDREN OF BODOM their questions – and when Felix of Nuclear Blast met the band he forwarded them to Alexi and Henkka.
This resulted in a great video interview. Part II is now available here: http://www.youtube.com/watch?v=1f8lC7GpioQ&feature=youtu.be
Part I can be watched here: http://www.youtube.com/watch?v=pI0WHD5lZLo&feature=youtu.be
CHILDREN OF BODOM recorded "Halo Of Blood" at Finland's Danger Johnny Studios (in a top secret, undisclosed location in Helsinki) with recording engineer Mikko Karmila, who worked on the "Hatebreeder" (1999), "Follow the Reaper" (2000), and "Hate Crew Deathroll" (2003) albums.
The album was produced by the band and Mikko Karmila, Keyboards recorded by Janne Wirman and vocal production by Peter Tägtgren.
"Halo Of Blood" was mixed at Finland's famed Finnvox Studios.
Track listing for COB's Halo Of Blood is:
01 – Waste Of Skin
02 – Halo Of Blood
03 – Scream For Silence
04 – Transference
05 – Bodom Blue Moon (The Second Coming)
06 – Your Days Are Numbered
07 – Dead Man's Hand On You
08 – Damage Beyond Repair
09 – All Twisted
10 – One Bottle and a Knee Deep
Check also out the first album trailers:
Part I: https://www.youtube.com/watch?v=INzpnD1HyNA
Part II: http://youtu.be/YieIHJ53bVM
The new album "Halo Of Blood" will be released June 07, 2013 via Nuclear Blast.
www.cobhc.com | www.facebook.com/childrenofbodom | www.nuclearblast.de/childrenofbodom