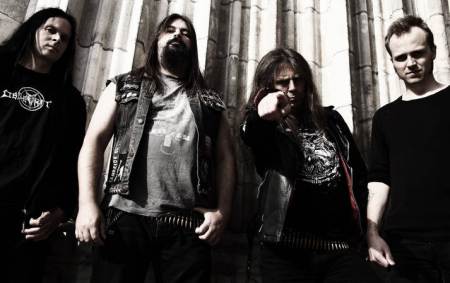 Ad Aprile arrivano in Italia gli Usurpress (http://usurpress.com – www.facebook.com/Usurpres) la band di Daniel Ekeroth, autore di "Swedish Death Metal" (Tsunami Edizioni)!
Venerdì 12 aprile Ateneo Squat, Roma
Sabato 13 aprile Into the Void Fest, Bologna (https://www.facebook.com/intothevoidfest)
Domenica 14 aprile TBA, Jesi (con Humus e Necandi Homines).
Usurpress Bio :
Usurpress is a death metal-band (of sorts) formed in Uppsala, Sweden May 2010. The musical aim of founding members Steffe Pettersson (vocals), Påhl Sundström (guitar) and Calle Andersson (drums) was, and still is, to combine the bestiality of old death metal and the undying hate of true hardcore/punk. The band was later joined by renowned death metal-expert Daniel Ekeroth (bass). The members all come from different musical backgrounds but their common ground is the love and understanding for all kinds of dark and aggressive underground music.
Usurpress calls their music "death crust" as they write short, aggressive songs based around wierd, dissonant death metal riffs and raw, primitive d-beat drumming. It has to be said right now that this eclectic mixture of styles, spiced with hints of progrock and psychedelica, is not for everybody. However, most people will certainly enjoy their aggressive live performances.
The quartet's debut offering, the 4-song demo simply called Demo 2010, soon led to record deals with various European underground labels and so far the band has released the mini-LP In Permanent Twilight (2011) and the full length album Trenches of the Netherworld (2012).  In addition to that, Usurpress has also found time to record split-7″:s with fellow Swedes Bombs of Hades and Pyramido. In June-July 2012 Usurpress toured Europe for the first time.