DEATHSTARS – announce new album and line-up changes!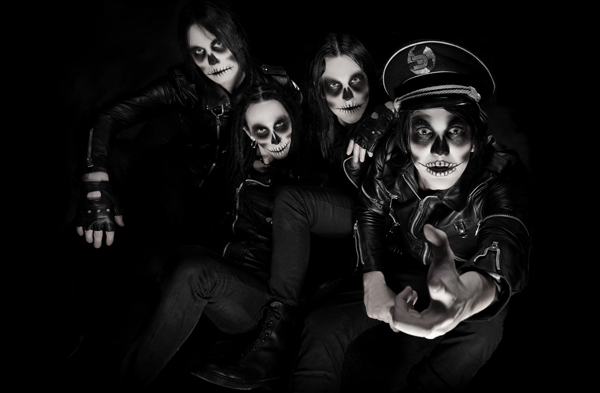 After the massive »Made in Germany« tour 2011/2012 together with RAMMSTEIN dark generals from Sweden, DEATHSTARS, began writing new material for the upcoming album.
In May 2013 DEATHSTARS will do a shorter tour in Australia, headline the MainStage at Blackfield Festival, Germany in June then go back to Sweden to get mobilized for the recordings that are scheduled to start in July. The album, which is yet untitled, marks the band's fourth full-length release and will turn another page in the book of their trademark deathglam music and show new interesting sides of the band while still staying true to their sound.
The recordings will take place in Studio Bohus, Sweden in July and August together with producer & technician Roberto Laghi who will co-produce the album together with Nightmare Industries. It's a cooperation they tried out on the 2 tracks they recorded in 2011 'METAL' and 'Death Is Wasted On The Dead' which worked exceptionally well.
"It's a ride through the most extreme nightclubs in hell, It's got more edge, it's got a rougher side, and it's less sugar coated than our last full length album with darker more twisted melodies. It's got a devilish attitude with a stiff upper lip yet beautiful in a dark deceiving way", says Nightmare Industries.
"DEATHSTARS is an adventure for us. It's as if it is a phenomenon of it's own, and our forum for destruction, glitter and darkness. We are very excited about the new material and every time we hit the studio we never know what the outcome will be, i mean we have a general idea but we're never a 100% sure how the final result will be until we're done and can sit back and listen to it." says Whiplasher Bernadotte
"To add live drums on to DEATHSTARS already massive sound, just makes it even more massive and darker. To enter the studio this summer with great material and Sweden's no.1 drum recorder makes things very exciting", says Vice.
DEATHSTARS have also parted ways with guitarist Cat Casino, who wanted to focus on other things in life but death.
He would like to say thanks a million times to the fans for all the memories from the time with the band. "It's been an amazing ride and I wish the band the best of luck for the future." – Cat Casino.
DEATHSTARS will continue as a four piece for a while and are not looking for a replacement yet.
"It's hard to replace Cat on a personal level so we won't even bother for now. We're still close friends with Cat and it's not in our plans to look for a new partner in crime. Right now our focus is on the recording process of the new album and after that we'll see if we continue as a 4 piece or find a replacement before the touring starts", says Skinny Disco.
"I asked our management to get "Fingers" from Compressorhead to do the job as our new rhythm guitarist for the shows we have booked right now, but it turns out he's really high maintenance and a slow learner. We'll see, maybe one day it can work out, it would be awesome and he fits the bands profile", says Nightmare Industries.
Get your tickets for the Australian tour herehttp://www.metropolistouring.com/current_tours_deathstars.html
www.deathstars.net | www.facebook.com/deathstars | www.nuclearblast.de/deathstars