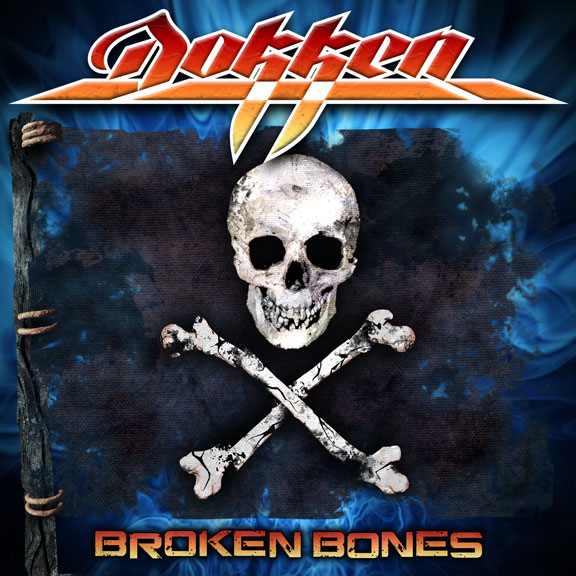 LET'S GET ROKKEN WITH DOKKEN:  "BROKEN BONES"
OUT IN SEPTEMBER VIA FRONTIERS RECORDS
Frontiers Records is proud to announce the return of melodic hard rockers, Dokken; the band's 11th studio album, BROKEN BONES, has been confirmed for release on September 21st in Europe and September 25th in North America.
The album will be released in two configurations: standard CD and limited edition CD in digipak with a bonus DVD, which features a comprehensive "Making Of The Album" documentary.
BROKEN BONES is produced by Dokken frontman and namesake, Don Dokken, and is mixed Bob St. John (Extreme, Duran Duran, Collective Soul) and Wyn Davis (Black Sabbath, Dio, Whitesnake) and mastered by famed engineer Maor Appelbaum (Halford, Yngwie Malmsteen, Sepultura).  The new set features a return to the band's signature sound of catchy melodies, hot riffs and monster production.
Don Dokken commented, "We've never had a #1 hit; we've just kept touring winning fans over one by one."  The first single from the album will be "Empire"; click here to check out a sample of the song.  Please see below for the track listing for BROKEN BONES.
Dokken exploded out of the hotbed that was the hard rock and heavy metal scene in Los Angeles in the early '80s. Such classic albums as TOOTH AND NAIL, UNDER LOCK AND KEY and BACK FOR THE ATTACK were all certified multi-platinum, with songs like "Alone Again," "Just Got Lucky," "Into the Fire," "It's Not Love" and "Dream Warriors" still being regarded as amongst the genre's finest. Dokken was one of the first groups to sell a million copies of their DVD "Unchain The Night."
The group continues to tour the world extensively and has shared the stage with AC/DC, Metallica, Aerosmith, Judas Priest, Van Halen, Kiss, Scorpions, Bon Jovi and many more.  To date, the band has sold upwards of 10 million albums worldwide.  The group has been nominated for a Grammy as well as an American Music Award. In 1988, Don was awarded the keys to the city of Los Angeles by Mayor Tom Bradley declaring January 27th as "Dokken Day" for his charity contributions to the Los Angeles Children's Hospital.
Dokken is: Don Dokken (vocals), Mick Brown (drums), Jon Levin (guitar) and Sean McNabb (bass).
BROKEN BONES track listing:
Empire
Broken Bones
Best Of Me
Blind
Waterfall
Victim Of The Crime
Burning Tears
Today
For The Last Time
Fade Away
Tonight
Weblinks: www.dokkencentral.com  /  www.frontiers.it