DORO – receives "Golden Gods" award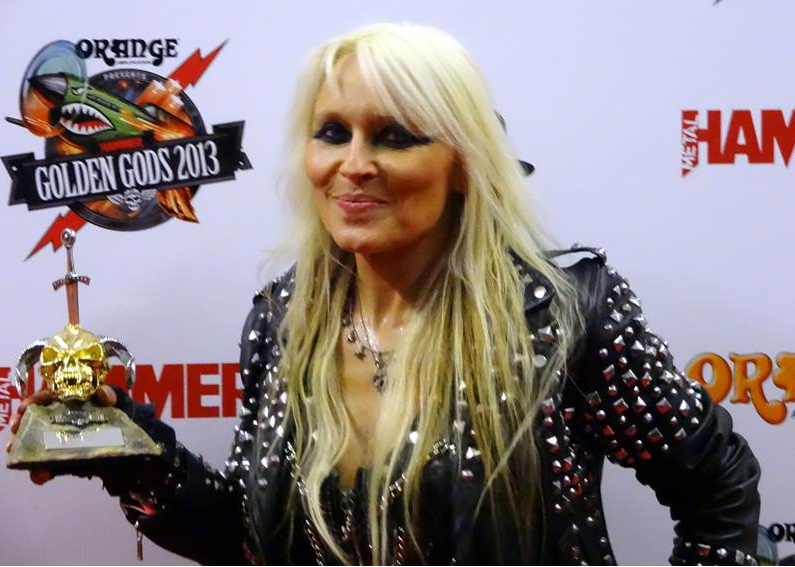 Last Sunday night, London witnessed the crowning of a Queen. Accompanied by thunderous applause of 2500 guests, Doro Pesch entered the stage of renowned O2 arena's "indigo" hall to receive the "Metal Hammer Golden Gods Award" in the category "legend". And in order to celebrate the Metal Queen's enthronement, her best pal Lemmy Kilmister and his legendary band MOTÖRHEAD played.
Now it's official: Doro Pesch, Germany's most successful international rock singer, was ennobled a living legend in the originating country of heavy music, making this the highlight of her 30 years career that has seen the blonde power woman selling ten million albums and playing more than 2800 concerts in over 60 countries on four continents to date.
"I feel deeply honoured and extremely happy", Doro states. "As an artist, you're always wishing for this kind of acknowledgement, as we're all working with much blood, sweat and tears day after day. I'm extremely grateful for this award and I know that I would have never come this far without the support from my amazing fans."
At the age of 19 in the year 1983, Doro kicked off her career in Düsseldorf, Germany, with her combo SNAKEBITE. Only four years later, the singer made her international breakthrough with her new band WARLOCK and sold more than 5 million copies of the masterpiece »Triumph And Agony« that contained the smash hits 'All We Are' and 'Für Immer', among others.
Up next, the newly minted rock legend will rock the stage of Metalfest Loreley in Germany on coming Thursday, June 20. Subsequently, Doro will celebrate her 30th stage anniversary together with 80.000 metal heads at Wacken Open Air, before she'll embark on an extensive anniversary tour in November.
DORO on Tour
20.06.2013 GER Sankt Goarshausen – Metalfest
21.06.2013 ITA Natz – Alpen Flair
22.06.2013 GER Steinbach-Langenbach – Comedy Meets Metal
20.07.2013 GER Pyras – Classic Rock Night
25.07.2013 GER Duisburg – Planet Hollywood Stage
27.07.2013 GER Seebronn – Rock Of Ages Festival
03.08.2013 GER Wacken – Wacken Open Air
09.08.2013 ESP Villena – Leyendas del Rock Festival
10.08.2013 BEL Kortrijk – Alcatraz Festival
11.10.2013 TCH Zlin – Rock Cafe
12.10.2013 GER München – Backstage Werk
13.10.2013 GER Frankfurt – Batschkapp
15.10.2013 NED Enschede – Atak
16.10.2013 GER Hamburg – Große Freiheit 36
18.10.2013 GER Münster – Jovel Music Hall
19.10.2013 GER Wilhelmshaven – Pumpwerk
14.12.2013 GER Karlsruhe – Knock Out Festival
15.12.2013 SWI Pratteln – Z7
16.12.2013 GER Nürnberg – Hirsch
17.12.2013 GER Saarbrücken – Garage
19.12.2013 GER Hannover – Capitol
20.12.2013 GER Leipzig – Haus Auensee
21.12.2013 GER Magdeburg – Factory
Videoclip "Raise Your Fist In The Air":
http://www.youtube.com/watch?v=OCOGy0CvR9Y&feature=youtu.be
More infos: