EPICA – announces Dutch album release show!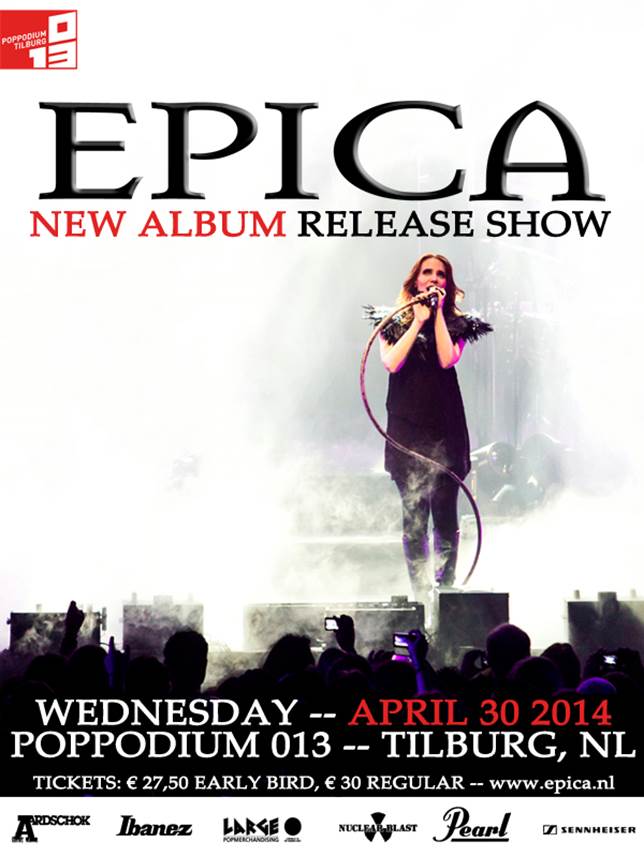 Dutch Symphonic Metal institution EPICA will return to the stage on the April 30, 2014 for an album release show at '013' in Tilburg, the Netherlands. After taking a live break due the pregnancy of leading lady Simone Simons, the publication of the brandnew Live DVD »Retrospect«, which is being unleashed via Nuclear Blast November 8, 2013 as well as writing & recording the upcoming new record, the successful sextett will gather its strength to present full power. Expect to get EPICA at its best: Putting on a memorable show, playing both old and new songs, and making all of it visually attractive.
The band is currently rounding up the pre-production of the follow-up to »Requiem For The Indifferent«. EPICA will start recording in October, with former AFTER FOREVER and AYREON keyboard player Joost van den Broek as producer (REVAMP, STREAM OF PASSION).
To make the release show at their native even more special, fans will not only be able to purchase regular tickets, but there will be two exclusive bundles available for this event. The first bundle contains a signed version of the upcoming album and the second larger bundle will consist of a goodie bag, containing a signed copy of the upcoming album, an exclusive T-shirt, Flag, Lanyard, VIP Laminate and a limited edition Poster.
Tickets and bundle for this show will go on sale Saturday September 14, 2013 at 10:00 CET through: http://www.ticketmaster.nl/event/118939?CAMEFROM=013&brand=nl_013web
There will be a special 'early bird' tickets available at reduced price. This offer is valid until September 28, 2013.
On the 8th of November Nuclear Blast will release »Retrospect« as a deluxe hardcover book with 48 pages. Both as a 2DVD/3CD and 2Blu-ray/3CD version.
Place your pre-order here: http://smarturl.it/EpicaRetro
http://www.epica.nl | www.facebook.com/epica | www.nulcearblast.de/epica