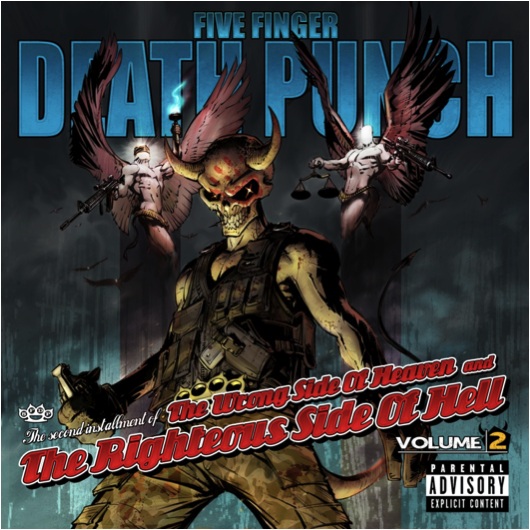 I FIVE FINGER DEATH PUNCH PUBBLICANO 'THE WRONG SIDE OF HEAVEN AND THE RIGHTEOUS SIDE OF HELL, VOLUME 2' IL 19 NOVEMBRE
"Hearing the ferocity of FFDP's fourth release, it's no wonder the band was able to crank out two albums during its latest writing jag".
BILLBOARD, 17/08/2013
Dopo il grande successo globale di THE WRONG SIDE OF HEAVEN AND THE RIGHTEOUS SIDE OF HELL Volume 1 la scorsa estate, i FIVE FINGER DEATH PUNCH pubblicheranno la seconda parte del loro capolavoro il 19 novembre su Eleven Seven/Warner. Da oggiAggiungi un appuntamento per oggi è possible preordinare il Volume 2 a questo indirizzo http://www.fivefingerdeathpunch.com/pre-order-the-wrong-side-of-heaven-and-the-righteous-side-of-hell-volume-2.
Dopo il successo (#1 U.S. Active Rock radio) del brano "Lift Me Up" (con Rob Halford dei Judas Priest) tratto dal Volume 1, la band ha reso disponibile oggiAggiungi un appuntamento per oggi "Battleborn", primo singolo del Volume 2, accompagnato dal video ufficiale disponibile la prossima settimana. I fan che pre-ordinano il disco su iTunes riceveranno subito in regalo "Battleborn".
Il frontman Ivan Moody spiega il significato che si cela dietro "Battleborn": "Dopo essere stato in tour per due anni mi sentivo fisicamente e moralmente prosciugato. Era come se avessi visto ogni singolo centimetro del mondo e stretto tutte le mani che erano da stringere. Ho completamente perso il conto del tempo: i voli, i viaggi e i concerti sembravano confondersi tra loro. La mia famiglia e i miei amici erano diventati un ricordo lontano. Anche se stavo facendo ciò che avevo sempre sognato di fare, tutte le energie si erano prosciugate. È stato estenuante. Ciò mi ha fatto capire che bisogna combattere davvero per ogni cosa per cui vale la pena combattere. Ogni desiderio, ogni sogno, ogni idea vengono ad esistenza solo attraverso sangue, sudore e sacrifici… Siamo tutti nati per combattere".
I FIVE FINGER DEATH PUNCH inizieranno il loro tour negli USA e Canada il 15 settembre, dopodiché si uniranno agli Avenged Sevenfold in Europa. La data italiana è prevista per il 23 novembre al Forum di Assago (MI).
THE WRONG SIDE OF HEAVEN AND THE RIGHTEOUS SIDE OF HELL Vol. 1, pubblicato il 30 luglio da Eleven Seven, ha debuttato come album rock #1 nel mondo: si è piazzato al #2 nella Billboard Top 200 Album Chart americana (vendendo 113,000 copie nella prima settimana), #3 in Canada, #4 in Germania, #12 in Australia e #21 in UK. Il Volume 1 ha venduto finora 210,000 copie e sarà presto disco d'oro, come i precedenti The Way of The Fist (2007), War Is The Answer (2009) e American Capitalist (2011). I FFDP hanno venduto oltre 4.5 millioni di singoli.
www.fivefingerdeathpunch.com
www.facebook.com/fivefingerdeathpunch
https://twitter.com/FFDP
www.youtube.com/user/5fdp
www.youtube.com/user/5FDPVEVO