FLESHGOD APOCALYPSE – reveal cover + album details!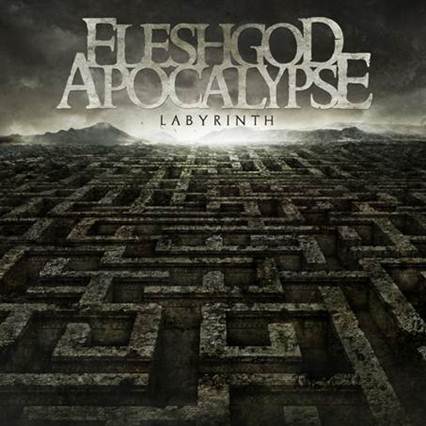 Italy's Symphonic Death Metal horde, FLESHGOD APOCALYPSE, will return in August with their new epic masterpiece entitled "Labyrinth".
The new album hones in on the band's unique traits giving fans everything they could hope for and more.
"Labyrinth" will be released August 16, 2013 in Europe and August 20, 2013 in North America via Nuclear Blast.
Francesco Paoli commented:
"Labyrinth is going to be THE album for Fleshgod Apocalypse. It's the perfect combination of all our strong points with the best production we've ever had.
It's definitely the most Fleshgod thing we've ever thought with the most Fleshgod riffs, lyrics, melodies, drumparts, solos, etc…We went deep inside the core
of this music, we broke it, and we finally unleashed these eleven songs. I want to be honest, it needed so much work and time to come up with this but now
I'm like: "ok, next time will be tough to reach this point!". Honesty and quality pay, always, and all of you guys supporting the band DESERVE THE BEST.
You might think that i'm overrating it just because it's our "child" but, trust me, this album is fuckin' dangerous.
Just take your time, listen to it and get lost into the LABYRINTH."
Tommaso Riccardi added:
"The concept of this album is based on the myth of the Labyrinth of Knossos and every character related to it. We focused on the philological aspect in order
to represent all the elements of the classic world and, through a manic and meticolous research, we managed to create a metaphor with our times, as the
maze can be associated with the endless search for what we really are. We're sure you will be stunned by this as much as we are."
Here's the tracklist:
1 KINGBORN
2 MINOTAUR (THE WRATH OF POSEIDON)
3 ELEGY
4 TOWARDS THE SUN
5 WARPLEDGE
6 PATHFINDER
7 THE FALL OF ASTERION
8 PROLOGUE
9 EPILOGUE
10 UNDER BLACK SAILS
11 LABYRINTH
Colin Marks nailed it once again making an incredible cover art work, as well as several neoclassical pieces of art for a massive inlay.
The mixing and mastering work of Stefano "Saul" Morabito is absolutely amazing. "Labyrinth" sounds clear and powerful and of course it
has to be considered one of his best jobs ever, so expect his name will be even stronger in the near future!
Make no mistake, FLESHGOD APOCALYPSE are now one of the leading forces in the extreme metal scene!
Don't forget the upcoming North America tour:
WINTERSUN
FLESHGOD APOCALYPSE
ARSIS
STARKILL
06.08.2013 US Silver Spring, MD – The Fillmore
07.08.2013 US Philadelphia, PA – Theater of Living Arts
08.08.2013 US New York, NY – Irving Plaza
09.08.2013 US Boston, MA – The Sinclair
11.08.2013 CA Toronto, ON – The Opera House
13.08.2013 US Cincinnati, OH – Bogart's
14.08.2013 US Cleveland, OH – House of Blues
15.08.2013 US Chicago, IL – House of Blues
16.08.2013 US Detroit, MI – St. Andrew's Hall
17.08.2013 US St. Paul, MN – Station 4
18.08.2013 CA Winnipeg, MB – Park Theatre
19.08.2013 CA Regina, SK – Riddell Center @ UoR
20.08.2013 CA Edmonton, AB – The Starlite Room
21.08.2013 CA Vancouver, BC – Rickshaw Theater
23.08.2013 US Seattle, WA – Studio Seven
24.08.2013 US Portland, OR – Hawthorne Theater
25.08.2013 US San Francisco, CA – DNA Lounge
26.08.2013 US West Hollywood, CA – House of Blues
27.08.2013 US Anaheim, CA – House of Blues
28.08.2013 US San Diego, CA – House of Blues
29.08.2013 US Tempe, AZ – Joe's Grotto
31.08.2013 US Dallas, TX – House of Blues
01.09.2013 US Houston, TX – House of Blues
03.09.2013 US Fort Lauderdale, FL – Revolution
04.09.2013 US Orlando, FL – House of Blues
05.09.2013 US Atlanta, GA – The Masquerade
06.09.2013 US Charlotte, NC – The Fillmore
http://www.fleshgodapocalypse.com/ | http://www.facebook.com/fleshgodapocalypse | www.nuclearblast.de/.fleshgodapocalypse