Gain Music starts in Europe and the U.S. With Petri H Lundén as new chairman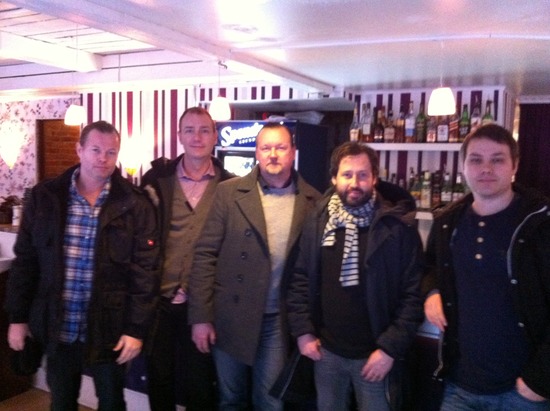 Picture:
Magnus Lundbäck (Gain), Johan Linglöf (CFO, Sony), Petri H Lundén, Mark Dennis (CEO, Sony), Markus Tagaris (Gain)

Gain Music is launching an international venture in Europe and the U.S. The record company has in recent years become a leading player for rock music in the Nordic countries. Back in 2003 the record company started the collaboration with BMG that led Sony Music to become shareholder in the company 2010. Gain has always released their acts world wide, but until now they have chosen to license the albums to other record companies in these territories. Together with Sony Music they will now launch Gain as a strong commercial rock label in Europe and the U.S. This means that the company itself has decided to release the artists in these territories in the same successful way as they do in the Nordic countries.
In connection with this, the board has chosen the Petri H. Lundén as new chairman of Gain. Peter H. Lundén is the executive chairman and owner of one of the most successful artist management company "Hagenburg" with clients such as Europe, The Cardigans, Peter LeMarc, HEAT, etc. He is the founder of MMF (Music Managers Forum) Sweden and former chairman of IMMF (International Music Managers Forum). He also works as an advisor to several international artists and several management companies.
"The consolidation of the major labels has opened up opportunities for other players, in my dialogue with Gain we have identified the same possibilities and through this co-operation we have worked on a strategy to be part of exploiting these opportunities. Both Europe and the US needs strong rock-labels and Gain aims to be one of them" – says Petri H. Lundén
Gain Music Entertainment Online:
www.facebook.com/GainMusicEntertainment
www.gain.se

Gain Production AB is a Sony Music Entertainment company from Sweden. The company consist the record labels Gain, Rambo Music and Gain Management. Artists: Europe, Mustasch, Hardcore Superstar, Crashdïet, H.E.A.T, Avatar, John Norum, Jay Smith, Ralf Gyllenhammar, Nicke Borg Homeland, Neverstore, Casablanca, Smash Into Pieces, Ammotrack, Pop Evil, Von Benzo, Calle & the Undervalleys, Katana, Within Y