GALLOWS POLE "And Time Stood Still"- Cover, Tracklist, release date: 26th July 2013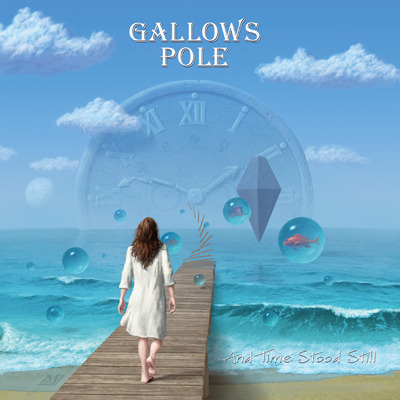 The release date of the GALLOWS POLE album "And Time Stood Still" is July 26th, 2013. The preorder phase will start on July 12th, 2013 in our webshop.
In the 80s there were some Austrian bands like NO BROS, SPEED LIMIT and GALLOWS POLE who played classic melodic Heavy Metal, but they couldn't really compete with the German bands. So, many people never knew that e.g. GALLOWS POLE released some really popular songs on their albums "In Rock We Trust" (1981) and "We Wanna Come Home" (1989).
These songs can make every metallic dream come true even today.
Our sub-label Pure Rock Records released the bands album "Waiting For the Mothership" two years ago, and now we are proud to present GALLOWS POLE's next album "And Time Stood Still". On this album you will find all the typical trademarks of the quintet: melodic Hard Rock, which is very near Heavy Metal, meets the unique and authentic, powerful vocals of Alois Binder. This is topped by a very suitable, rather basic production. In this bargain are also some very catchy songs, e.g.
"Summer Rain" (as single edit version) or the very straight "Rock This Town". With "And Time Stood Still" GALLOWS POLE will give proof to every critic that they still rock after 30 years of band history!
TRACKLIST:
1. And Time Stood Still
2. Summer Rain
3. Older
4. Here And There
5. Rock This Town
6. Take Me To The Heaven
7. I Don't Wanna Go
8. Hold Nights
9. Summer Rain (Radio Edition)
Total Playing: 42:17min
LINE-UP:
Alois Martin Binder – vocals, guitar, bass
Harald Pikasky – guitars
Günther Steiner – keyboards
Michael Haderer – drums
Elsko – vocals
Guest musicians:
Thomas Gehrke – bass
Andy Wagner – drums