GRAND MAGUS – new song/lyric video posted!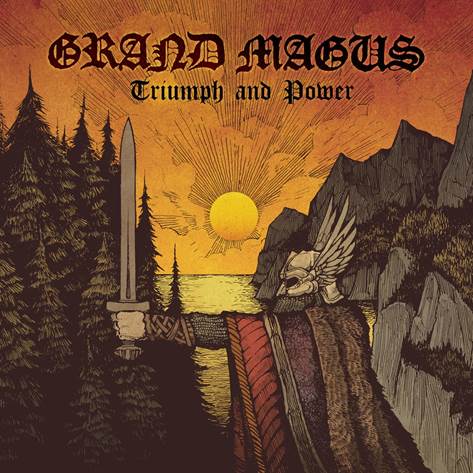 Swedish riff lords GRAND MAGUS, in cooperation with Decibel Magazine, have posted the title-track to their new album with an accompanying
lyric video here http://www.decibelmagazine.com/featured/streaming-grand-magus-triumph-and-power/.
The track comes from their upcoming seventh studio album "Triumph and Power", which is set to be released on January 31 (Europe), February 3 (UK) and February 4, 2014 (N. America) via Nuclear Blast.
"Triumph and Power" was recorded at Studio Sweetspot in Halmstad, Sweden this past September with producer Nico Elgstrand and engineer Staffan Karlsson (ARCH ENEMY, SPIRITUAL BEGGARS).
Artwork was done this time around by Anthony Roberts.
Commented the band: "Triumph And Power has been completed. It's a metal triumph of Viking power! Once again we worked with Nico Elgstrand as producer, a tradition that started with Hammer Of The North back in 2010. This is our strongest album yet. It has the northern feel. It has the power and the melody that has become our mark of excellence. Fans of true metal will take this album to their hearts. To top everything off, we have the striking and epic artwork of Anthony Roberts. The album cover perfectly captures the work on this album and GRAND MAGUS as a band. Stay true!"

Triumph and Power track list:
1. On Hooves Of Gold
2. Steel Versus Steel
3. Fight
4. Triumph And Power
5. Dominator
6. Arv
7. Holmgång
8. The Naked And The Dead
9. Ymer
10. The Hammer Will Bite
Bonus:
11. Blackmoon
Studio reports:
Part 1 http://youtu.be/EJLMmWRnT-4
Part 2 http://youtu.be/Bz4H0bfh9jg
Part 3 http://youtu.be/6U-lCOnpLgQ
Album-Trailer: http://youtu.be/Mjq9kKQ9vrE
www.grandmagus.com | www.facebook.com/grandmagusofficial | www.nuclearblast.de/grandmagus