HYPOCRISY – release cover, tracklist and first song
Swedish death metal legends HYPOCRISY have just released the cover artwork, tracklist and the first song of their upcoming new masterpiece "End Of Disclosure"!
It doesn't take more than the first seconds of the opener and title track `End Of Disclosure´ to locate the new record's position in HYPOCRISY's multifaceted discography.
See for yourself and listen to the song on the official HYPOCRISY facebook site: www.facebook.com/hypocrisy
Or get the track as free download here: http://www.nuclearblast.de/en/label/music/band/about/70925.hypocrisy.html
Being on a par with 1990's brute yet multifarious masterpieces, "End Of Disclosure" – produced by mastermind Peter Tägtgren in his Abyss Studio, Sweden – leaves no space for breathers.
Peter states:
"This time I wanted to go back to basic, felt like we lost it for the last couple of albums , it's straight to the point, it's more Hypocrisy than ever, the fast, the heavy, the epic.. Enjoy!"
The artwork was done this time by Wes Benscoter (SLAYER, KREATOR, NILE, VADER…)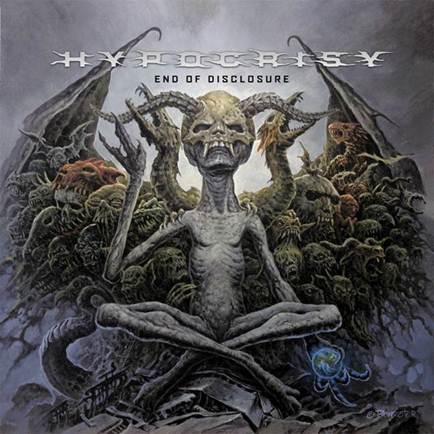 "End Of Disclosure" track listing:
01. End Of Disclosure
02. Tales Of Thy Spineless
03. The Eye
04. United We Fall
05. 44 Double Zero
06. Hell Is Where I Stay
07. Soldier Of Fortune
08. When Death Calls
09. The Return
HYPOCRISY have just confirmed the following dates for 2013.
End Of Disclosure Tour 2013 HYPOCRISY (swe) + HATE (pl) + ESSENCE (den)
28.03. DE Essen/Turock
29.03. BE Namur/Cinex
30.03. NL Leeuwarden/Romein
31.03. NL Eindhoven/Effenaar
01.04. FR Paris/Trabendo
02.04.FR Saint/Etienne/Le Fil
03.04. CH Genf/L'Usine
04.04. CH Winterthur/Salzhaus
05.04. DE Stuttgart/LKA
06.04. DE Leipzig/Hellraiser
07.04. DE Hamburg/Markthalle
08.04. DE Berlin/K17
10.04. PL Krakau/Kwadrat
11.04. CZ Prag/Nova Chmelnice
12.04. DE Dettelbach/Metal Franconia Festival
13.04. DE München/Backstage
14.04. AT Wien/Szene
Supported by: Metal Hammer, Legacy, BLAST!, Noizeletter, Sonic Seducer, Metalnews.de, Musicx
The new album "End Of Disclosure" will be released March 22, 2013 via Nuclear Blast.
www.hypocrisy.cc | www.facebook.com/hypocrisy | www.nuclearblast.de/hypocrisy