HYPOCRISY – New official video available
Sweden´s legendary death metallers HYPOCRISY have uploaded their new video clip.
Watch the video of the upcoming new masterpiece "End Of Disclosure" here: http://www.youtube.com/watch?v=MJsdZ2FR3WM
"End Of Disclosure"will be released March 22, 2013 via Nuclear Blast.
"End Of Disclosure" track listing:
01. End Of Disclosure
02. Tales Of Thy Spineless
03. The Eye
04. United We Fall
05. 44 Double Zero
06. Hell Is Where I Stay
07. Soldier Of Fortune
08. When Death Calls
09. The Return
Being on a par with 1990's brute yet multifarious masterpieces, "End Of Disclosure" – produced by mastermind Peter Tägtgren in his Abyss Studio, Sweden – leaves no space for breathers.
Peter states:
"This time I wanted to go back to basic, felt like we lost it for the last couple of albums , it's straight to the point, it's more Hypocrisy than ever, the fast, the heavy, the epic.. Enjoy!"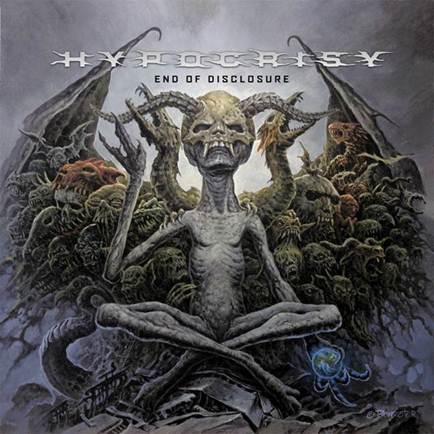 The artwork was done this time by Wes Benscoter (SLAYER, KREATOR, NILE, VADER…)
www.hypocrisy.cc | www.facebook.com/hypocrisy | www.nuclearblast.de/hypocrisy