INDICA – reveal details about their upcoming new album »Shine«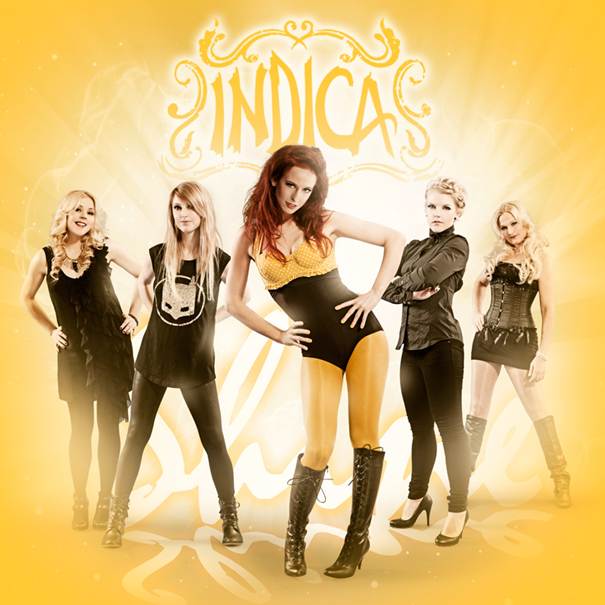 INDICA, the fairy-like Finnish five-piece clearly shines away and high above the ground of their native Suomi soil. Thus it comes as an almost natural consequence to call the upcoming new record »Shine«. The five female musicians have already reached mega stardom in Finland, and their first five hit-records – intonated in their native language – and numerous awards underline this status. With the 2010 release »A Way Away« the band premiered in the English language, and will now cover new grounds to enchant with their Pop-Jewel »Shine«.
Commented leading lady Jonsu: "All our beloved friends, fans and supporters, we are very happy to announce that the release date of INDICA's »Shine« has finally been confirmed and the date is January 24th 2014. Shining »Shine« has been one of the most difficult things that we have faced so far on our journey with the girls. After a few nervous break downs the echoes of our screaming producer Roland Spremberg are finally silent and now afterwards we are very thankful that he went through all that trouble with us, because he made us work like slaves and got more out of us that we could have ever hoped for. We experienced moments from growth to times when we thought if there is any point to go on making music at all. The studio sessions in Germany where sometimes over 14 hours at one go. I had heard that the Germans are hard workers and I really felt it, making this album.
After all the hassle we are more eager than ever to get on the road and you don't know how much we have missed you. We are so thankful for your support and it gave us wings to fly over the difficult times all the way to the happy end."
The groundwork for »Shine« was set back in 2011 when Jonsu started working on songs – based on a dream of hers. The result is a conjuring essential Symphonic-Pop creation, with sparkling character, beautiful catchy melodies and lots of soul.
The tracklist of »Shine« will be like this:
01. Mountain Made Of Stone
02. Uncovered
03. A Definite Maybe
04. Goodbye To Berlin
05. Run Run
06. Here And Now
07. Missing
08. Hush Now Baby
09. Behind The Walls
10. A Kid In the playground
11. War Child
———–
12. Humming Bird (digipak Bonus)
13. Lucid (iTunes Bonus)
INDICA will also record a Finnish version of the album, exclusively released in their mother country. "We have had many requests to record in Finnish and we don't want to disappoint you, do we? I'm gonna start recording the Finnish material by the end of September and the release is also going to include some acoustic versions of the songs", adds Jonsu.
»Shine« will be released on January 24, 2014 via Nuclear Blast, giving you a real kick-off start for the new year. One thing can already be stated without any doubt: INDICA has never been better. And »Shine« shimmers as bright as the beautiful musicians themselves high in the music sky.
www.indica-music.com | www.facebook.com/Indicaofficial | www.nuclearblast.de/indica