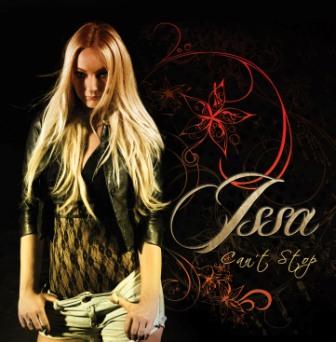 Frontiers Records is pleased to announce the release of ISSA's third album entitled "Can't Stop" on November 2nd in Europe and November 5th inNorth America.
"Can't Stop" is a very special album for ISSA, since it includes some blistering versions of carefully selected hidden AOR gems that the singer treats her own way.  These tracks have been originally included on albums by Mark Free, Aviator, 21 Guns,Atlantic, Regatta, Worrall, Blvd,TowerCity and other AOR luminaries.
Issa has created her own style and approach to Melodic Rock by mixing her peculiar and unique  melodic sensibility with a rocking attitude which is unseen in today's Pop singers: real rock with a commercial sheen. These reworkings show how Issa is at ease when working on classic AOR musical material.
 "Serafino at Frontiers came up with the concept of me recording an album of some loved and cult melodic rock songs and sent me through the song choices" says Issa "Some I was familiar with, like Tower City's "Surrender" and Mark Free's "State of Love", but several others were new to me. I thought the songs that suited me best are  "Just a Wish" and "These Eyes" originally recorded by 21 Guns. They have nice structures and ballad like intros that build to a big chorus. Can't Stop is a great rocker too and I love the melodies and lyrics in the Tower City track".
Issa versions of these amazing tracks ooze class and update to the modern day some truly immortal melodies with some masterful arrangements provided by producer Alessandro Delvecchio (Hardline). Since her debut "Sign of Angels", Issa has often been compared to such music stars as Celine Dion, Avril Lavigne and Amy Lee (Evanescence). Though she is now ready to take her legitimate place in between the great AOR chanteuses such as Ann Wilson and Robin Beck.  "Can't Stop" shows that Issa is a solid Rock Music star and a true uprising Rock diva, who is set to alight hearts and minds of Melodic Rock fans for the years to come.
"Promoting this album is my priority for now with some live dates around Europe" concludes Issa. "I have 3 albums now so my set is really cool. I've been doing a lot more songwriting as well for my next original album which i hope we can start working on at some point next year".
"Can't Stop" includes the following tracks:
Can't Stop; Power Over Me; Wherever I Run; Just A Wish; If You Ever Fall;  Do You Ever Think Of Me; Dream On; Stranded; Heat Of The Night; I Won't Surrender; State Of Love; These Eyes.
                You can enjoy the first single "Can't Stop" streaming on the Frontiers Records webradio www.frontiers.it/webradio
ISSA
Issa (Isabell Oversveen) – Lead Vocals
Alessandro Del Vecchio – Keyboards
Mario Percudani – Guitars
Anna Portaluppi – Bass
Alessandro Mori – Drums