KATAKLYSM – "Waiting for the End to Come" Artwork Revealed!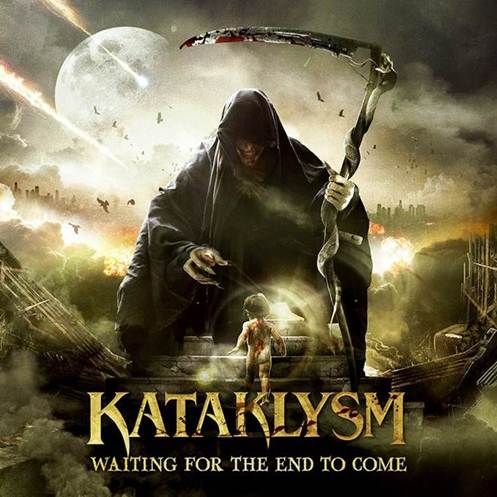 Montreal based death metal powerhouse, KATAKLYSM, have revealed the cover art for their highly anticipated upcoming release "Waiting for the End to Come".
The artwork Peter Sallai (SABATON) will be featured on the standard jewel case and limited edition cassette tape versions of their new album, which will be released on October 25th via Nuclear Blast.
Check out the cover and trailer previewing new music here: http://youtu.be/8W3JtbVLGwA
"The new album art depicts a child, which represents innocence in humanity, covered in dirt and blood from life's experience," explains frontman Maurizio Iacono.
"In front of him is death represented by a reaper, who comes to claim his soul for the afterlife or the abyss, whichever way you want interpret what happens next.
We leave it open to the fans to decide with their own beliefs. This depiction of the transition between life and death was made by Hungarian artist Peter Sallai, and
will be on the standard CD jewel case and limited edition cassette tape versions."
"Waiting for the End to Come" was recorded by guitarist Jean Francois Dagenais and mixed by Zeuss (SUFFOCATION, HATEBREED, ARSIS).
Heaven's Venom was released 2010 and debuted at #35 on the German Albums chart, making it the band's
highest charting album and their biggest first week sales to date. This will now be the band's longest stretch between records.
Check out the music video for the song "Iron Will" on YouTube: http://youtu.be/KSs6Jp7X0uY. The track was recorded in Montreal, Canada with guitarist/producer
Jean-François Dagenais and mixed by Tue Madsen (THE HAUNTED, BEHEMOTH, MNEMIC) in Denmark.
www.facebook.com/kataklysm | www.nuclearblast.de/kataklysm