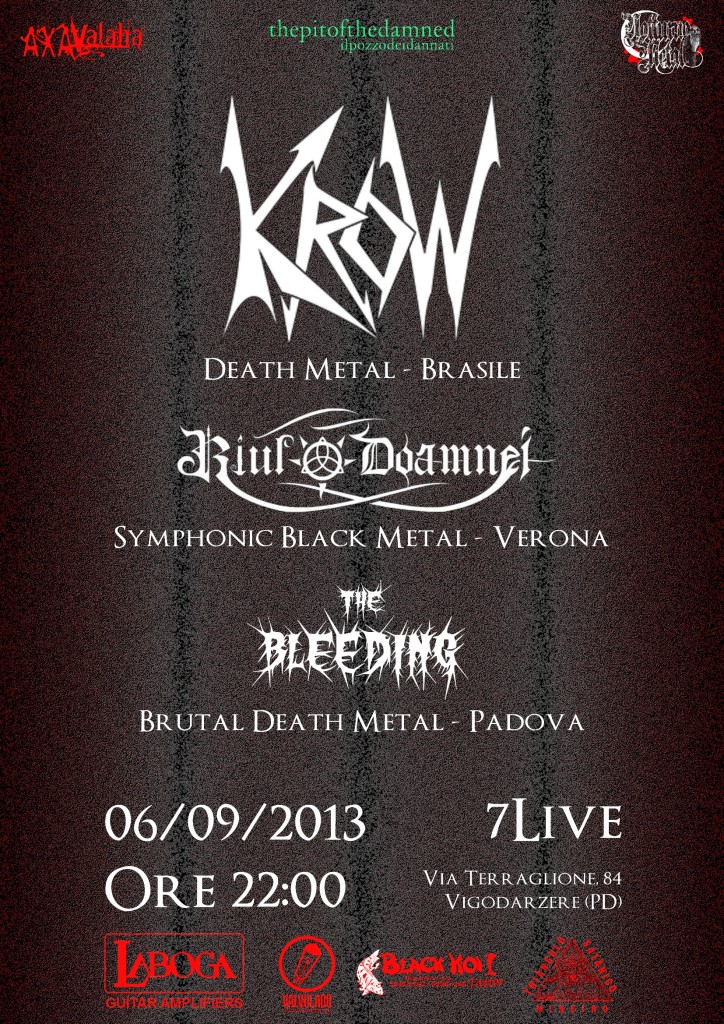 THE PIT OF THE DAMNED presenta:
FRAMEWORK OF VIOLENCE – EUROPEAN TOUR 2013
KROW…
Hailing from Uberlândia , Minas Gerais, KroW emerged from the brazilian underground scene in the end of 2006 , remaining from the same state as names like Sepultura, Sarcofago, Chakal, Sextrash, The Mist, Mutilator and Overdose, releasing their first and acclaimed demo "Contempt for You", which put the band quickly on the road, playing with Ratos de Porão, Krisiun, Possessed and many other bands around Brazil.
Their debut album called "Before the Ashes" released in september of 2009 put them in a big show with Sepultura, then touring big festivals around Brazil and their first tour outside the country, in Chile with the South American death metal icon, Undercroft. In 2010 still promoting "Before the Ashes" KroW went to a huge tour in Europe, playing 34 shows in 10 countries.
A busy period followed the band, working without stop until the release of the current album "Traces of the Trade" on march 2012, signed by the American producer Alan Douches from West West Side Studio, with the special appearance of Alvaro Lillo from Undercroft/Watain, opening a new step for the group, unleashing their latest full-length with Dimmu Borgir in Santiago, Chile in a sold out show.
The band played in festivals around Brazil and head again to Europe for a tour in 19 countries and 48 shows, sharing stage with names like Arch Enemy, Dying Fetus, Job for a Cowboy, Haemorrage, Onslaught, Undercroft and many others performing in festivals and playing the Destroying Balkans Tour with the Death Metal Legend Sinister, which put the band to relocate their headquarters in Europe for a non stop job.
The album "Traces of the Trade" brings the wrath and agressive sound , with a unique thematic based on the bloody, violent and disgusting Brazilian slavery time back in the days, and all of it is inspired on the late 80's and 90's Death Metal roots with a Thrash Metal punch, mixed with the most brutal nowadays patterns. Prepare to break your necks!!!
https://www.facebook.com/krowmetalzone
RIUL DOAMNEI
The symphonic black metal act RIUL DOAMNEI rises in the middle of 1999, approaching to the scene with the strong purpose to create a very personal concept of music and lyrics.
Including and mixing magistrally in its style many other influences like thrash and death riffing supported by majestic and triumphant atmospheres, gothic overtures and melodic slices, evolving a dark,oppressive and violent sound, the Band starts to find many approvals in its intense live activities since the early years.
Growing up constantely Riul Doamnei become quickly a very well known reality in the metal scene, finding a special place in extreme music panorama, touring Italy and Eastern Europe (Romania, Belarus and Russia) with bands such as VADER, ROTTING CHIRST, KRISIUN, INCANTATION, sharing the stage during all these years with entities such as MARDUK, GRAVE DIGGER, DEW SCENTED, BLOOD, LA STRANA OFFICINA, NECRODEATH, DARK QUARTERER, GORY BLISTER, DARK LUNACY, NODE, NOVEMBRE, ARTHEMIS, DEATH DIES, CORAM LETHE, CILICE, KREPUSKUL and headlining many festivals and underground events.
After the first autoproduced demo, "Stramoniologie des Geistes" (2002) and the following EP "Le Serpent Rouge" (2006),"APOCRYPHAL", the first band's full-length album, is released and distributed in Europe, Canada, USA and Japan, receiving a great response on reviews and international press, with enthusiastic appreciation and support of thousands of fans all over the world.
The band is also nominated "Best New Act of 2008" by the most popular italian metal website.
"Apocryphal" (Deadsun Records, 2007) is a concept album based on the Gnostic Gospels, a journey through the real and primitive meaning of
christian religion, going straight to the roots of its essence and far away from the manipulation, cutting and correction made by the most millenary terroristic organization: the church.
Here you will find the original version of the ancient and true cult,
and there's no lies or fiction, it's just history.
After a successful celebration of the 10th band's anniversary giving a special show with their biggest friends, legendary ROTTING CHRIST, RIUL DOAMNEI are working on the new album, another concept one: the last chapter that will close the trilogy begun on 2006…
https://www.facebook.com/riuldoamnei
THE BLEEDING
La band viene formata principalmente da Riccardo, Pat e Luca e inizia subito a comporre proprie canzoni dopo aver inserito nel repertorio qualche cover.
Al chè inizia la ricerca dei membri per completare il gruppo e viene scelta Elisa come bassista e Fabio come seconda chitarra.
Pronti a distruggere gli ultimi residui di poserismo assurdo in voga di questi tempi, la band entra in studio a luglio 2012 per incidere un EP di 7 canzoni.
The band was formed by Riccardo, Pat and Luca and started just by the beginnning to create its own music.
After some months Elisa has joined the band as bassist and Fabio as guitarist.
Ready to destroy your asses the band had entered the studio to record a 7-songs EP.
https://www.facebook.com/pages/The-Bleeding/123552454397487
7 LIVE – Via Terraglione 84, Vigodarzere (PD)
Inizio live ore 22, fine ore 01
Ingresso 5€ con tessera ARCI
Si ringrazia della collaborazione:
NOTTURNO METAL RADIOSHOW
http://www.notturnometal.com/
MATERIALE RESISTENTE
http://www.materialeresistente.it/
RADIO NOALE ROCK
https://www.facebook.com/radionoalerock