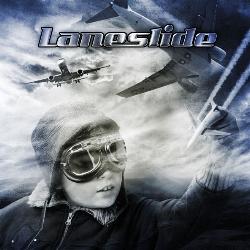 LANESLIDE is a new Melodic Rock project developed by Italian songwriter / guitarist / producer Bruno Kraler (Brunorock). The international line-up of the band is made up of vocalist extraordinaire Frank Vestry, best known for the successful and critically acclaimed Marcello/Vestry album and the classic one off-record by US Melodic Rockers Last Temptation. Alessandro Del Vecchio (Hardline, Lionville, Edge of Forever) one of the rising stars of today's Rock scene plays keyboards and the rhythm section are John Billings (Rick Springfield, Donna Summer, Lancia) on bass and Dominik Hülshorst (ex-Bonfire) on drums.
Four additional renowned musicians also lend their musical talents to the LANESLIDE album: Lino Gonzalez from Argentina on lead and rhythm guitars, Bobby Altvater on guitars and backing vocals and Erik Mårtensson and Michael Bormann on backing vocals.
LANESLIDE are one of the most exciting collaborations in recent years, their hard hitting yet very catchy brand of Melodic Rock is powerful, passionate and it has all the trademarks to let it stand out from the bulk of releases coming out this spring.
Ladies and Gentlemen, fasten your seatbelts, turn up your stereo and get ready for the Rock'n'Roll LANESLIDE.
www.laneslide.com
www.facebook.com/Laneslide