LEPROUS – Launch video clip for "The Cloak"; "Coal" pre-sale links!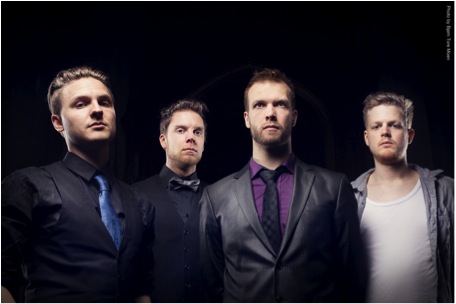 In the light of the upcoming release of their much anticipated new album "Coal" on May 20th, 2013 in Europe and May 28th, 2013 in North America via InsideOutMusic, acclaimed Norwegian Progsters LEPROUS are now launching the album's first video.
Watch the intense clip for the track "The Cloak", shot by David Solbjørg of Twichty Films (http://www.twitchyfilms.com), on the website of UK's Prog Magazine here:
http://www.progrockmag.com/video/video-premiere-leprous-the-cloak/

For people in North America – use this link:
http://www.metalunderground.com/news/details.cfm?newsid=91819
LEPROUS checked in with the following comment:
"While we're anxiously waiting to release "Coal" to the public, another taste of it is coming your way. A while back we announced a video was in the making, and now everything is ready for your eyes and ears. "The Cloak" is our second music video, and we're extremely excited to finally release it! Enjoy! "

Previously, LEPROUS have launched a first new song off "Coal" entitled "Chronic" here:
https://soundcloud.com/officialinsideoutmusic/leprous-chronic
"Coal" will be released as standard CD, as limited edition Mediabook CD (with expanded booklet and two bonus tracks), as 2LP on 180 gr. vinyl (also including the two bonus tracks, in black, white or transparent vinyl) or as digital download.
"Coal" pre-order links:

All European formats from IOM webshop:
http://www.insideoutshop.de/Search?q=coal
Ltd. CD + Shirt bundle:
http://www.insideoutshop.de/Item/Leprous_-_Coal_-_Ltd_CD_-_Shirt_-Black-/15889
I-Tunes:
http://smarturl.it/coal_itunes
"Coal" has been elected "album of the month" in the upcoming May 2013 issue of The Netherlands' Aardschok. Congratulations!
Adding to LEPROUS' intense touring schedule for the coming months to promote "Coal", new shows for Estonia and India have been recently confirmed. Here is a list of all so far announced upcoming dates:
LEPROUS – Festivals 2013:
08.06.2013 Sölvesborg (Sweden) – Sweden Rock Festival (http://www.swedenrock.com)
21.06.2013 Clisson (France) – Hellfest (http://www.hellfest.fr)
28.06.2013 Helsinki (Finland) – Tuska Open Air (http://www.tuska-festival.fi)
06.07.2013 Bangalore (India) – Bangalore Open Air (http://bangaloreopenair.com)
21.07.2013 Tolmin (Slovenia) – Metal Dayz Festival (http://www.metaldays.net)
01.-03.08.2013 Wacken (Germany) – Wacken Open Air (http://www.wacken.com)
09.08.2013 Josefov (Czech Republic) – Brutal Assault Festival (http://www.brutalassault.cz)
16.-17.08.2013 Saint Palais Sur Mer (France) – Crescendo Festival (http://www.festival-crescendo.com)
LEPROUS – Tour 2013:
Presented by Rock Hard Magazine & Intromental

06.09.2013 Trondheim (Norway) – Rockheim
07.09.2013 Bergen (Norway) – Garage
13.09.2013 Oslo (Norway) – John Dee
14.09.2013 Sandnes (Norway) – Tribute
15.09.2013 Drammen (Norway) – Buddy
16.09.2013 Skien (Norway) – Parkbiografen
17.09.2013 Göteborg (Sweden) – Musikens Hus
18.09.2013 Stockholm (Sweden) – Debaser
20.09.2013 Helsinki (Finland) – Nosturi Club
21.09.2013 St. Petersburg (Russia) – A2/Sputnik
22.09.2013 Tallinn (Estonia) – Tapper Club * New Date
25.09.2013 Warsaw (Poland) – Progresja
26.09.2013 Krakow (Poland) – Kwadrat
28.09.2013 Copenhagen (Denmark) – Beta2300
————————————–
17.10.2013 Prague (Czech Republic) – Nova Chmelnice
18.10.2013 Vienna (Austria) – Replugged
19.10.2013 Bratislava (Slovakia) – Randal Club
20.10.2013 Budapest (Hungary) – A38
21.10.2013 Bucharest (Romania) – Silver Church
22.10.2013 Sofia (Bulgaria) – RBF Club
23.10.2013 Belgrade (Serbia) – Dom Omladine
24.10.2013 Ljubljana (Slovenia) – Orto Bar
25.10.2013 Milano (Italy) – The Theatre Club
26.10.2013 Pratteln (Switzerland) – Galery
27.10.2013 Genova (Italy) – Muddy Waters
29.10.2013 Barcelona (Spain) – Razzmatazz
30.10.2013 Murcia (Spain) – 12&Medio
31.10.2013 Madrid (Spain) – Caracol
01.11.2013 Porto (Portugal) – Hard Club
02.11.2013 Lissabon (Portugal) – Side B
04.11.2013 Toulouse (France) – Les Saint Des Seins
05.11.2013 Lyon (France) – Ninkasi Kao
06.11.2013 Frankfurt (Germany) – Das Bett * New Date
07.11.2013 Nijmegen (The Netherlands) – Doornroosje
08.11.2013 Paris (France) – Le Divan Du Monde
09.11.2013 London (UK) – Underworld
10.11.2013 Oostende (Belgium) – Jeugdhuis Ohk
11.11.2013 Essen (Germany) – Turock * New Date
12.11.2013 Hamburg (Germany) – MarX
Support band on first part of the tour (September): TBA
Support band on the second part of the tour (October-November): Blindead (Poland)
"Coal" was produced with Heidi Solberg Tveitan & Vegard Tveitan of Mnemosyne and Jens Bogren & Tony Lindgren at Fascination Street Studios (Opeth, Symphony X, Kreator) mixed/mastered the album. Cover artwork was once again provided by American artist Jeff Jordan, who already painted for the previous LEPROUS album "Bilateral" and bands like The Mars Volta.
More details about "Coal" will be revealed soon…
LEPROUS Line-Up:
Einar Solberg – synth/vocals
Tor Oddmund Suhrke – guitar
Øystein Landsverk – guitar
Tobias Ørnes Andersen – drums
LEPROUS online:
www.leprous.net
www.leprous.net/mobile (mobile website)
www.facebook.com/leprousband
www.myspace.com/leprousband
www.youtube.com/leprouschannel
INSIDEOUTMUSIC online:
www.insideoutmusic.com
www.youtube.com/InsideOutMusicTV
www.facebook.com/InsideOutMusic
www.insideoutshop.de
Free InsideOutMusic digital sampler:
http://www.insideoutmusic.com/specials/freesampler