LEPROUS – 'European Progressive Assault' tour starts today; Teaser videos per show; First festival appearances confirmed for 2013!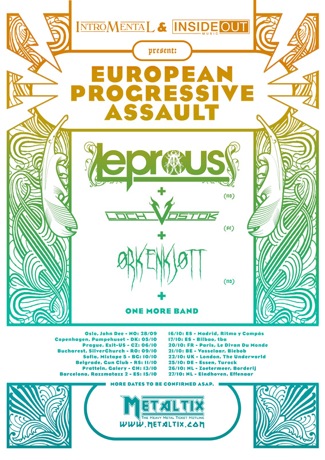 LEPROUS, the much acclaimed prog metal newcomer-sensations from Norway, are embarking on a headlining tour dubbed "European Progressive Assault" this week, with support coming from Sweden's Loch Vostok (www.lochvostok.com), Andorra's Persefone (www.persefone.com) and Norway's Ørkenkjøtt (www.facebook.com/orkenkjott).
In preparation for this journey, LEPROUS have recently shot some really entertaining videos giving some useful information and also their very random thoughts about every city visited on this extensive tour. Here is an example for the Oslo show, which already happened this past weekend: http://www.youtube.com/watch?v=wkvbhyk3zPM
Check out LEPROUS' youtube channel for all other clips: http://www.youtube.com/leprouschannel Here is an updated list of shows with ticket links for all the shows, including all links for the "Countdown to the European Progressive Assault tour 2012" video-clips feature:
LEPROUS + Loch Vostok + Persefone + Ørkenkjøtt
"European Progressive Assault" European tour 2012 Presented by Eclipsed Mag. & powermetal.de (G/S/A) and Revolver Mag. (Spain)
28/09: NO – Oslo – John Dee
05/10: DK – Copenhagen – Pumpehuset
06/10: CZ – Praha – ExitUs
07/10: SK – Bratislava – Randal Club
08/10: SB – Beograd – Gun Club
09/10: RO – Bucharest – Silver Church
10/10: BG – Sofia – Mixtape 5
12/10: IT – Milano – Barrio's Cafe
13/10: CH – Pratteln – Galery
14/10: FR Montpellier – Le Secret Place
15/10: ES – Barcelona – Razzmatazz 3
16/10: ES – Madrid – Ritmo Y Compás
17/10: ES – Bilbao – Santana 27
19/10: FR – Lyon – Le Marché Gare
20/10: FR – Paris – Le Divan Du Monde
21/10: BE – Vosselaar – Biebob
22/10: UK – London – Underworld
24/10: DE – Marburg – KFZ
25/10: DE – Essen – Turock
26/10: NL – Zoetermeer – Borderij
27/10: NL – Eindhoven – Effenaar

LEPROUS have also already been announced to appear at the 2013 editions of the Germany's Wacken Open Air festival, August 1-3 / www.wacken.com and also Slovenia's Metaldays festival, July 21-27 in Tolmin / www.metaldays.net. More dates will be announced soon! After an extremely successful 41 dates all across Europe supporting Amorphis as well as dates in Japan together with Ihsahn and The Haunted late 2011/early 2012, LEPROUS continue to promote their
highly acclaimed latest album release "Bilateral" and the band will finally
be performing their full live-set for their enthusiastic followers on the upcoming European tour.
The promotional video clip for the song "Restless" off "Bilateral" album can be seen here: http://www.youtube.com/watch?v=986iAyQpr1U
A free InsideOutMusic digital sampler including the LEPROUS song "Thorn" (which features a guest vocal appearance of former Emperor frontman Ihsahn) can be downloaded here: http://www.insideoutmusic.com/specials/freesampler/
"Bilateral" was skillfully mixed and mastered by Jens Bogren at the Fascination Street studio (Opeth, Devin Townsend, Symphony X, etc.). The album features cover artwork by the Surrealist Jeff Jordan (www.jeffjordanart.com), who has also worked for The Mars Volta and many more.
LEPROUS Line-Up: Einar Solberg – synth/vocals Tor Oddmund Suhrke – guitar Øystein Landsverk – guitar Rein Blomquist – bass Tobias Ørnes Andersen – drums
LEPROUS online: www.leprous.net
www.leprous.net/mobile (mobile website) www.facebook.com/leprousband www.myspace.com/leprousband www.youtube.com/leprouschannel
INSIDEOUTMUSIC online: www.insideoutmusic.com www.youtube.com/InsideOutMusicTV www.facebook.com/InsideOutMusic www.insideoutshop.de