LEPROUS – Unveil artwork for "Coal"; Shooting video clip!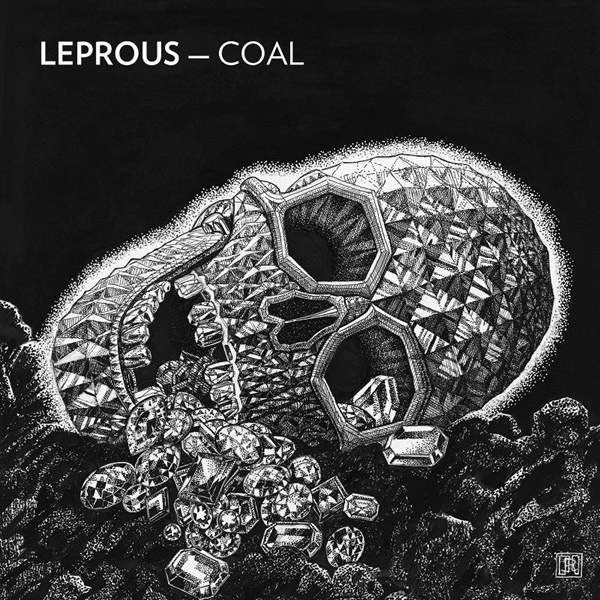 Acclaimed Norwegian Progsters LEPROUS are soon to release their much anticipated new album "Coal" on May 20th, 2013 in Europe and May 28th, 2013 in North America via InsideOutMusic.
Now, the band is revealing the cover artwork for "Coal", conceived no other than acclaimed American artist Jeff Jordan, who already took care of the previous album release "Bilateral" and also worked for bands like The Mars Volta. Here is what LEPROUS had to say about the artwork:
"The artwork for this album was a hard nut to crack. We wanted something dark, melancholic but with a distinct character. We tried several solutions without finding the perfect supplement for the music, before we decided to contact Jeff Jordan once again. Jeff immediately had wonderful ideas that we decided to pursue. The artwork of "Coal" is in my opinion the most iconic we've had so far."
In other news, LEPROUS just shot a video-clip for the new album's track "The Cloak" and, most suitably for the album's theme, the video was shot in a mine and should be launched around May. Here is a comment by the band about the shooting:
"A new LEPROUS video is in the making! We spent one very long day inside the Konnerud Hill Mines here in Norway, getting some very interesting footage. The video, just like the clip for "Restless" on our previous album, was made by Twichty Films (http://www.twitchyfilms.com) once again, but we promise you no fish or cake was harmed this time around. A dark, moist atmosphere, far into the deep…"
Most recently, LEPROUS have now launched a first new song off "Coal" via the website of UK's Metal Hammer magazine. Check out "Chronic" here: www.metalhammer.co.uk/news/leprous-premiere-new-track-chronic
LEPROUS will be performing at various prominent summer festivals (Wacken, Hellfest, Tuska, etc.) to promote the release of "Coal" and are now also announcing European shows as headlining act from September to November 2013. Here is a list of all dates confirmed so far:
LEPROUS – Tour 2013:
Presented by Rock Hard Magazine & Intromental

06.09.2013 Trondheim (Norway) – Rockheim * New Date
07.09.2013 Bergen (Norway) – Garage
13.09.2013 Oslo (Norway) – John Dee
14.09.2013 Sandnes (Norway) – Tribute
15.09.2013 Drammen (Norway) – Buddy
16.09.2013 Skien (Norway) – Parkbiografen
17.09.2013 Göteborg (Sweden) – Musikens Hus
18.09.2013 Stockholm (Sweden) – Debaser
20.09.2013 Helsinki (Finland) – Nosturi Club
21.09.2013 St. Petersburg (Russia) – A2/Sputnik * New Date
25.09.2013 Warsaw (Poland) – Progresja
26.09.2013 Krakow (Poland) – Kwadrat
28.09.2013 Copenhagen (Denmark) – Beta2300
————————————–
17.10.2013 Prague (Czech Republic) – Nova Chmelnice
18.10.2013 Vienna (Austria) – Replugged
19.10.2013 Bratislava (Slovakia) – Randal Club
20.10.2013 Budapest (Hungary) – A38
21.10.2013 Bucharest (Romania) – Silver Church
22.10.2013 Sofia (Bulgaria) – RBF Club
23.10.2013 Belgrade (Serbia) – Dom Omladine
24.10.2013 Ljubljana (Slovenia) – Orto Bar
25.10.2013 Milano (Italy) – The Theatre Club
26.10.2013 Pratteln (Switzerland) – Galery
27.10.2013 Genova (Italy) – Muddy Waters
29.10.2013 Barcelona (Spain) – Razzmatazz
30.10.2013 Murcia (Spain) – 12&Medio
31.10.2013 Madrid (Spain) – Caracol
01.11.2013 Porto (Portugal) – Hard Club
02.11.2013 Lissabon (Portugal) – Side B
04.11.2013 Toulouse (France) – Les Saint Des Seins
05.11.2013 Lyon (France) – Ninkasi Kao
06.11.2013 Essen (Germany) – Turock
07.11.2013 Nijmegen (The Netherlands) – Doornroosje
08.11.2013 Paris (France) – Le Divan Du Monde
09.11.2013 London (UK) – Underworld
10.11.2013 Oostende (Belgium) – Jeugdhuis Ohk
12.11.2013 Hamburg (Germany) – MarX
Support band on first part of the tour (September): Ørkenkjøtt (Norway)
Support band on the second part of the tour (October-November): Blindead (Poland)
LEPROUS – Festivals 2013:
21.04.2013 Tilburg (The Netherlands) – 013 / Roadburn Festival – Afterburner (http://www.roadburn.com )
27.04.2013 Amstelveen (The Netherlands) – Headway Festival (http://www.headwayfestival.com )
08.06.2013 Sölvesborg (Sweden) – Sweden Rock Festival LINK <http://www.swedenrock.com)
21.06.2013 Clisson (France) – Hellfest (http://www.hellfest.fr)
28.06.2013 Helsinki (Finland) – Tuska Open Air (http://www.tuska-festival.fi)
21.07.2013 Tolmin (Slovenia) – Metal Dayz Festival (http://www.metaldays.net)
01.-03.08.2013 Wacken (Germany) – Wacken Open Air (http://www.wacken.com)
09.08.2013 Josefov (Czech Republic) – Brutal Assault Festival (http://www.brutalassault.cz)
16.-17.08.2013 Saint Palais Sur Mer (France) – Crescendo Festival (http://www.festival-crescendo.com)
"Coal" was produced with Heidi Solberg Tveitan & Vegard Tveitan of Mnemosyne and Jens Bogren & Tony Lindgren at Fascination Street Studios (Opeth, Symphony X, Kreator) mixed/mastered the album.
More details about "Coal" will be revealed soon…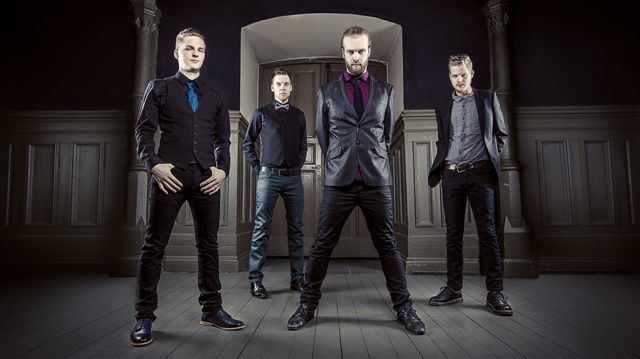 LEPROUS Line-Up:
(pictured from left to right)
Tor Oddmund Suhrke – guitar
Øystein Landsverk – guitar
Einar Solberg – synth/vocals
Tobias Ørnes Andersen – drums
LEPROUS online:
www.leprous.net
www.leprous.net/mobile(mobile website)
www.facebook.com/leprousband
www.myspace.com/leprousband
www.youtube.com/leprouschannel
INSIDEOUTMUSIC online:
www.insideoutmusic.com
www.youtube.com/InsideOutMusicTV
www.facebook.com/InsideOutMusic
www.insideoutshop.de
Free InsideOutMusic digital sampler:
http://www.insideoutmusic.com/specials/freesampler