LINGUA MORTIS ORCHESTRA – announce winter tour dates!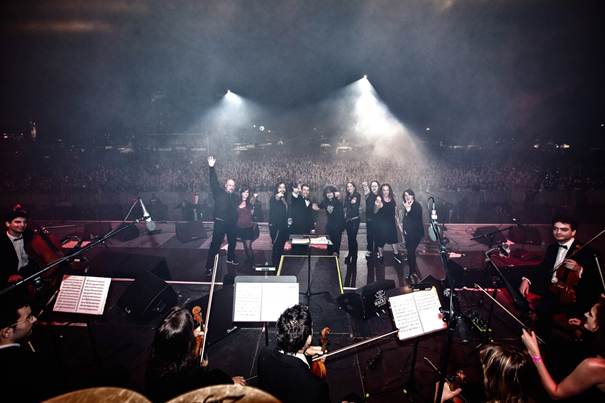 Combining symphonic Heavy Metal with epic ballads, is the main play one gets to hear on the new record of LINGUA MORTIS ORCHESTRA, which was recently celebrated by more than 75.000 metalheads in Wacken.
The tour will continue shortly before Christmas in a few selected cities. Be sure to catch up with the LINGUA MORTIS ORCHESTRA and their support MAJESTY on any of the following dates:
18.12. D Stuttgart – LKA Longhorn
19.12. D Memmingen – Stadthalle Memmingen
20.12. D Nürnberg – Löwensaal
21.12. D Köln – Essigfabrik
22.12. D Langen – Neue Stadthalle
The LINGUA MORTIS ORCHESTRA consists of the three RAGE musicians Victor Smolski (guitar, keyboards, cello), Peavy Wagner (vocals and bass) and André Hilgers (drums). »LMO« is the sequel to the 1996 record »Lingua Mortis«, which was a real pioneer of its time. Victor Smolski composed most of the music and cooperated with two orchestras from Spain and Belarus, enlarging the number of this mammoth project's participants to more than 100.
»LMO« follows an exciting concept on the burning of witches in Gelnhausen in 1599 and is based on a true story. Currently the band is shooting a video clip for the opening track `Cleansed by Fire` directly in Gelnhausen. Apart from the three RAGE musicians, two female vocalists belong to LINGUA MORTIS ORCHESTRA's regular cast: Jeannette Marchewka and soprano singer Dana Harnge. Guest vocals were contributed by Henning Basse (ex-METALLIUM), among others. The orchestra is coming all the way from Spain to conclude the live line up.
The debut, »LMO« charted on #24 of the German Charts. Further entries, in Switzerland at #43 and France at #143, make the chart success even bigger.
Check out online:
Studio Trailer: http://youtu.be/sypI7_iM6Xc
Album Trailer, Pt. 1: http://youtu.be/FUAEtp_Z_tI
Album Trailer, Pt. 2: http://youtu.be/aqNCc9wUPgk
Album Trailer, Pt. 3: http://bit.ly/1cL9UsM
Album Trailer, Pt. 4: http://bit.ly/1cL9FxT
Track-By-Track Pt. 1: http://bit.ly/184nKX5
Track-By-Track Pt. 2: http://www.youtube.com/watch?v=xV0caVy75K0
Lyric-Video: http://www.youtube.com/watch?v=ppwRCoxScls
www.lingua-mortis-orchestra.de | www.facebook.com/linguamortisorchestra | www.nuclearblast.de/linguamortisorchestra