LOST SOCIETY – European tour with Suicidal Angels & Fueled By Fire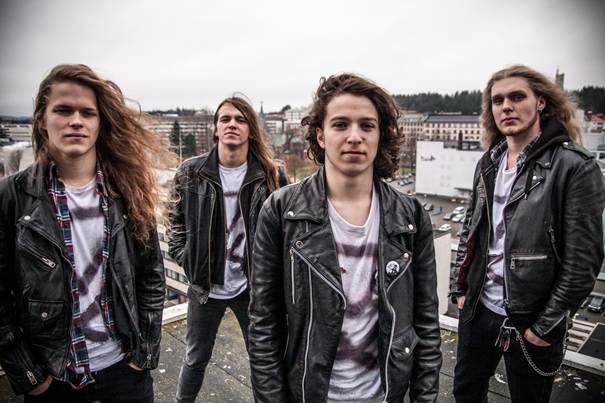 Finish Thrash youngsters LOST SOCIETY are nothing near to speeding down. While the final winds of summer 2013 are still around and the band's tour schedule likely packed for the upcoming indoor season, LOST SOCIETY have just announced their participation on the "Conquering Europe" Tour 2014, supporting SUICIDAL ANGELS and FUELED BY FIRE.
Commented guitarist/vocalist Samy Elbanna: "We're really stoked to finally pack up our stuff and hit Europe! It's really going to be an awesome tour and we're looking forward to going to countries we've never been to and thrashing them up with the great company of SUICIDAL ANGELS, FUELED BY FIRE and EXARSIS! Look out Europe, the four braindead metalheads are coming and we're gonna thrash all over you! See you all in the pit!"
Founded early 2010 in Jyväskylä by Thrash/Speed Metal enthusiast Samy Elbanna, the front man gathered an ensemble of passionate allies around him to establish a band that soon should become known as the most energetic Newcomer act Scandinavia had seen in years.
Crafted under the aegis of famous producer Nino Laurenne (AMORPHIS, ENSIFERUM, LORDI) in the prestigious Sonic Pump Studios (FINNTROLL, SONATA ARCTICA, OMNIUM GATHERUM), the band's debut »Fast Loud Death« can be ranked among this year's best releases of its genre – despite all the outputs of seasoned long-established thrashers that may still follow. It's their fresh, catchy, highly energetic songs – forged in the fire of youthful passion under the sledge-hammer of boundless joy of playing, presented with a most likable winking snotty attitude – making LOST SOCIETY become unrivalled, even in direct comparison with old hands of the scene. That's because the quintet adds pots of a special ingredient to its creative work that many routiniers have lost over the years: pure heart's blood, overflowing with adrenaline. Beware: LOST SOCIETY will turn every social order upside down!
LOST SOCIETY
+SUICIDAL ANGELS, FUELED BY FIRE
24.01. DE Aalen – Rock It
25.01. DE Essen – Turock
26.01. BE Vosselaar – Biebob
27.01. UK London – The Underworld
28.01. F Paris – Glazart
29.01. F Nantes – Ferrailleur
30.01. DE Trier – Exhaus
31.01. A Dornbirn – Schlachthaus
01.02. CH Aarau – Kiff
02.02. A Graz – Explosiv
03.02. I Bresso – Blue Rose Saloon
04.02. I Rome – Traffic Live Club
05.02. I Bologna – Blogos
06.02. DE Freiburg – Walfisch
07.02. A Salzburg – Rockhouse
08.02. DE Munich – Backstage
09.02. A Vienna – Escape Metalcorner
11.02. H Budapest – TBC
12.02. CZ Prague – Nova Chmelnice
13.02. DE Darmstadt – Steinbruch Theater
14.02. DE Immensen – Black Hand Inn
15.02. DE Leipzig – Hellraiser
16.02. PL Wroclaw – Firley
17.02. DE Berlin – K17
19.02. DK Copenhagen – Beta
20.02. DE Hamburg – Markthalle
21.02. NL Drachten – Iduna
22.02. DE Cologne – MTC
23.20. NL Rotterdam – Baroeg
www.facebook.com/lostsocietyfinland | www.nuclearblast.de/lostsociety