METAL HAMMER AWARDS – vote for your favourite Nuclear Blast bands!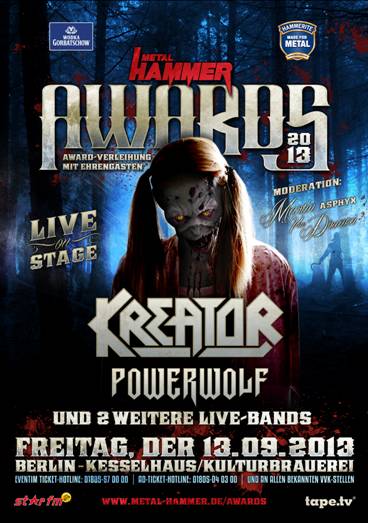 This year, Metal Hammer Germany will award their annual Metal Hammer Awards for the fifth time on Friday, September 13, at the "Kesselhaus" in Berlin, Germany, with live performances coming from KREATOR and POWERWOLF, among others.
Again, many of Nuclear Blast's bands can be found among the nominees. To make sure that they receive their well-deserved decorations, head over to www.metal-hammer.de/awards and cast your votes!
The following Nuclear Blast bands are nominated:
"Best Album"
AMORPHIS – »Circle«
HYPOCRISY – »End Of Disclosure«
ENSLAVED – »RIITIIR«
WINTERSUN – »TIME I«
KREATOR – »Phantom Antichrist«
TESTAMENT – »Dark Roots Of Earth«
GRAND MAGUS – »The Hunt«
"Best Band International"
AMORPHIS
NIGHTWISH
TESTAMENT
WINTERSUN
"Best German Band"
AVANTASIA
KREATOR
DORO
DESTRUCTION
"Best Debut"
ORCHID – »The Mouths Of Madness«
"Best Live Band"
KREATOR
AVANTASIA
TESTAMENT
"Metal Anthem"
AMORPHIS – `Hopeless Days´
KREATOR – `Phantom Antichrist´
HYPOCRISY – `End Of Disclosure´
TESTAMENT – `Native Blood´
AVANTASIA – `Invoke The Machine´
"Legend"
MITCH LUCKER
SCOTT IAN
ABBATH
DORO PESCH

"God Of Riffs"
ALEXI LAIHO
WOLF HOFFMANN
JANNE "JB" CHRISTOFFERSSON
SCOTT IAN
"Up And Coming"
ORCHID
LOST SOCIETY
KADAVAR
THY ART IS MURDER

For further information and tickets, visit www.metal-hammer.de/awards