NUCLEAR BLAST – vote for our artists at the Metal Hammer Awards 2013!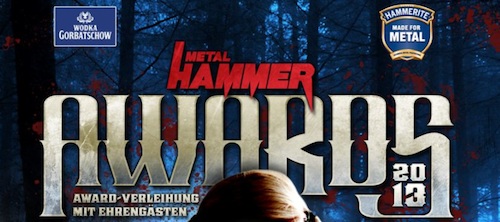 The following Nuclear Blast artists are nominated for several categories for this years Metal Hammer Awards!
The event is set to take place on Friday, September 13, 2013 at Kulturbrauerei/Kesselhaus, Berlin, Germany and will also see a headlining show by German thrash titans KREATOR.
Please spread the word and vote for the nuclear army: http://www.metal-hammer.de/magazin/features/article402753/metal-hammer-awards-2013-die-letzte-voting-phase.html
Best International
AMORPHIS
NIGHTWISH
TESTAMENT
WINTERSUN
Best German
AVANTASIA
KREATOR
DORO
DESTRUCTION
Best Live
AVANTASIA
KREATOR
TESTAMENT
Up and Coming
ORCHID
LOST SOCIETY
KADAVAR
THY ART IS MURDER
Best Album
AMORPHIS – »Circle«
GRAND MAGUS – »The Hunt«
HYPOCRISY – »End Of Disclosure«
KREATOR – »Phantom Antichrist«
TESTAMENT – »Dark Roots Of Earth«
WINTERSUN – »Time I«
Best Debut
ORCHID – »The Mouths Of Madness«
Metal Anthem
AMORPHIS – 'Hopeless Days'
AVANTASIA – 'Invoke The Machine'
HYPOCRISY – 'End Of Disclosure'
KREATOR – 'Phantom Antichrist'
TESTAMENT – 'Native Blood'
Legend
Scott Ian (ANTHRAX)
Doro Pesch (DORO)
Abbath (IMMORTAL)
Mitch Lucker (SUICIDE SILENCE)
God Of Riffs
Wolf Hoffmann (ACCEPT)
Scott Ian (ANTHRAX)
Alexi Laiho (CHILDREN OF BODOM)
Janne "JB" Christoffersson (GRAND MAGUS)