ORCHID – Further dates announced!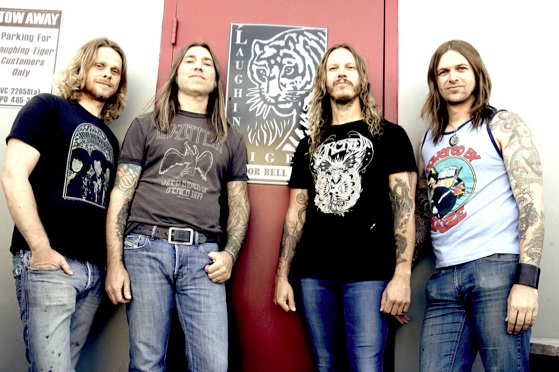 Attention, heavy rockers, doomheads, retro aficionados, hippies or simply lovers of timeless rock music: rejoice! ORCHID are on tour through Europe!
ORCHID
are more of a recent phenomenon: the fourpiece made quite a bunch of heads turn with their debut EP
»Through The Devil's Doorway«
in 2009 before they firmly established themselves as the rightful heirs to
BLACK SABBATH
's throne with their album
»Capricorn«
in 2011.
Their second full-length album »The Mouths of Madness« is out now! Order your CD/Vinyl/digital copy via http://smarturl.it/Orchid

ORCHID have been named "The best and most important doom band of the past five years" by ROCK HARD Germany's chief in editor Goetz Kuehnemund and BEHEMOTH's legendary mainman Nergal stated "BLACK SABBATH should do an album like »The Mouths Of Madness«!"
Now, further dates for the current tour have been announced! Here they are:
ORCHID, FREE FALL & TROUBLED HORSE live!
Presented by ROCK HARD, MUSIX, METALLIAN MAGAZINE (FR), ROCK HARD (IT), LA HEAVY (ESP), MARISKAL ROCK (ESP), NOIZELETTER, METALNEWS and BLAST!
ORCHID
FREE FALL
TROUBLED HORSE
29.04.2013 PL – Cracow – Lizard King
30.04.2013 AT – Wien – Szene
01.05.2013 DE – Darmstadt – Steinbruch Theater
02.05.2013 DE – München – Backstage
03.05.2013 DE – Siegen – Vortex
04.05.2013 NL – Drachten – Iduna – new
05.05.2013 BE – Wuustwezel – Puntpop
06.05.2013 NL – Rotterdam – Baroeg – new
07.05.2013 CH – Aarau – Kiff
09.05.2013 DE – Cham – LA – new
10.05.2013 DE – Bischofswerda – East Club – new
11.05.2013 AT – Salzburg – Rockhouse Bar – new
13.05.2013 IT – Milano – Lo Fi Club (without FREE FALL)
14.05.2013 IT – Rome – Traffic Live Club (without FREE FALL)
15.05.2013 IT – Bologna – Freak Out Club (without FREE FALL)
16.05.2013 AT – Dornbirn – Schlachthaus (without FREE FALL)
17.05.2013 DE – Stuttgart – Universum
18.05.2013 DE – Hamburg – Markthalle
19.05.2013 DE – Gelsenkirchen – Rock Hard Festival (ORCHID ONLY)
21.05.2013 UK – London – Underworld (ORCHID ONLY)
Also check out:
'Wizard Of War' music video: http://youtu.be/VA_Q8ci7bag
Under The Influence w/ Theo Mindell: http://youtu.be/7p3hqsHzk2U
Under The Influence w/ Carter Kennedy: http://youtu.be/8ylnfdi8aEM