ORCHID, BLUES PILLS & SCORPION CHILD – to tour Europe!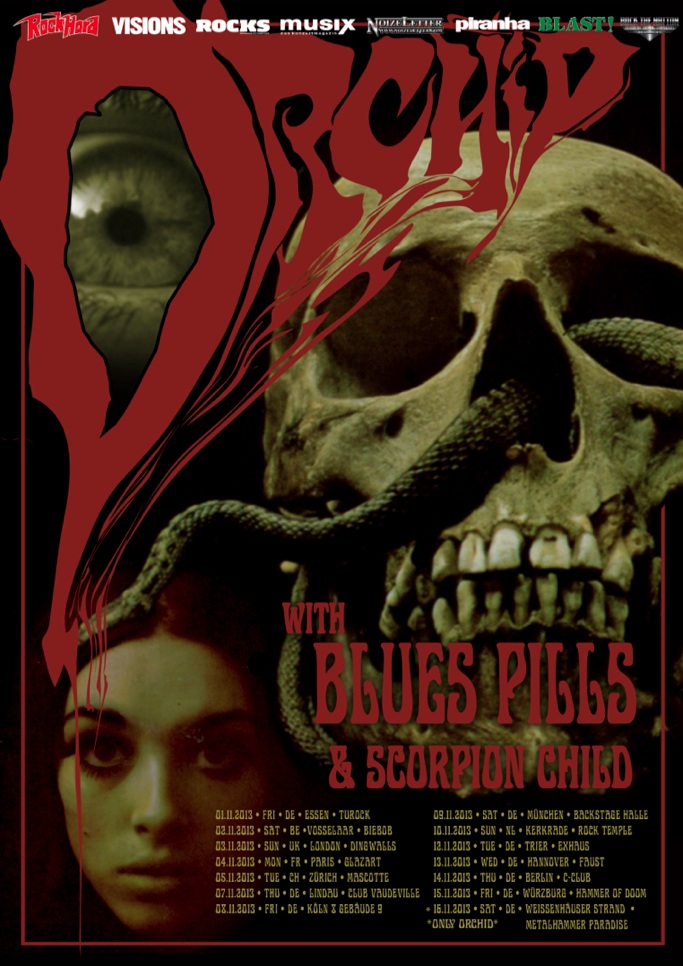 After a highly successful Euro tour in spring San Francisco classic heavy rockers ORCHID will return to the old continent this November.
ORCHID will be supporting their most recent chart breaking effort »The Mouths Of Madness« and will be bringing label mates SCORPION CHILD with them.
Commented ORCHID singer Theo Mindell: "We're really excited to be returning to Europe for this tour with such great bands supporting us. We're so blown away by the love and support everyone has shown us and can't wait to play these shows. Looking forward to seeing you all on the road."
Added SCORPION CHILD frontman Aryn Jonathan Black: "We are enthralled to spread our live show to Europe and what could be better than sharing the experience with ORCHID and BLUES PILLS!"
Be sure to check out:
ORCHID – 'Wizard Of War' official video: http://youtu.be/VA_Q8ci7bag
SCORPION CHILD – 'Liquor' lyric video: http://youtu.be/h7uITA22HIY
SCORPION CHILD – 'Polygon Of Eyes' lyric video: http://youtu.be/nYw9hFeonW8
ORCHID
BLUES PILLS
SCORPION CHILD
presented by ROCK HARD, VISIONS, ROCKS, MUSIX, NOIZELETTER, BLAST! & PIRANHA
01.11. D Essen – Turock
02.11. B Vosselaar – Biebob
03.11. UK London – Dingwalls
04.11. F Paris – Glazart
05.11. CH Zürich – Mascotte
07.11. D Lindau – Club Vaudeville
08.11. D Köln – Gebäude 9
09.11. D München – Backstage Halle
10.11. NL Kerkrade – Rock Temple
12.11. D Trier – ExHaus
13.11. D Hannover – Faust
14.11. D Berlin – C-Club
15.11. D Würzburg – Hammer Of Doom
16.11. D Weißenhäuser Strand – Metal Hammer Paradise *ORCHID only*
Tickets available via www.hardticket.eu
www.orchidsf.com | www.scorpionchild.com | www.nuclearblast.de