ORCHID – wrap up highly successful European tour!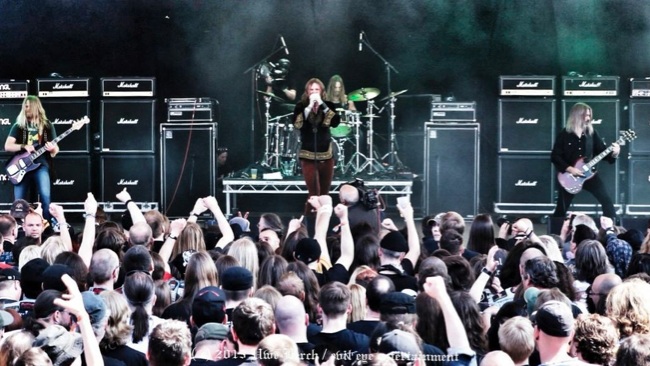 photo by Uwe Lerch / Evil Eye Entertainment
San Francisco-based heavy rockers ORCHID finished their highly successful European run (in support of the brand new chart smashing album, »The Mouths Of Madness«) last monday in London where the band played a sweat-driven show at the packed Underworld club. The tour also saw the band perform as a headliner at Berlin Desertfest in front of 2000 fans and a frenetically celebrated gig in front of around 8.000 euphoric fans at renowned ROCK HARD Festival, in Gelsenkirchen, Germany.
At first the tour featuring label mates FREE FALL should have been done as direct support to Swedish (also label mates) WITCHCRAFT, who had to cancel their participation pretty much last minute. The tour was close to be cancelled overall when ORCHID decided to take the headlining slot and do their thing. The best decision that could have been made – the run that took the band through Germany, Italy, Benelux, Austria, Switzerland, Poland and the UK turned to a victorious march bar none – crowded and sold out venues everywhere, amazing reactions from the audiences and a highly frequented merch booth (second highest turnover at ROCK HARD Festival).
Commented singer Theo Mindell: "It was an amazing experience as a band to do our first headlining tour in Europe ! all the fans singing along and giving us their hearts night after night… that's really what keeps you going when you're out there on the road for that long. thanks to our whole team…the great people at RTN booking, all the great friends we've made at our label Nuclear Blast who have been just killer, and our great management company, Brainstorm… along with the bands and crew who supported us on tour… none of what we've achieved as a band would have been possible in this really special moment if it weren't for the teamwork, love, and attention of all these people. We had a great time. Hope to see everyone in Europe and the UK again soon!!! Cheers!!"
Media partners that attended the tour stated:
"If you closed your eyes you'd swear you were in some sweaty Birmingham boozer in 1970, but that totally misses the point of what ORCHID are about: Reaching back and directly continuing the lineage of psych heavy dirty blues that is the genesis of the music we all love, and revelling in the communal freedom of it. And of course losing your s**t to 'Wizard Of War'!"
Metal Hammer (UK)
"A smokin' Sabbath inspired show….. ORCHID have reinvented the wheels of confusion. Spiffing! "
RECORD COLLECTOR (UK)
"ORCHID's retro blend of hard rock, blues and folk is genuinely captivating and they prove that with a sound this huge they are no mere flash in the pan, but a cosmic star that will continue to burn bright and light the way for traditional doom the world over."
TERRORIZER (UK)
"There is a rumbling in the dark underbelly of doom rock and its name is ORCHID. Look no further than ORCHID, for the future of classic seventies rock."
FIREWORKS MAGAZINE (UK)
"ORCHID definitely were one of the highlights of the entire festival!"
Götz Kühnemund / ROCK HARD (GER)
"On stage ORCHID are eerily close to SABBATH if it comes to sound and bearing."
Frank Thießies / METAL HAMMER (GER)
"ORCHID's first show in front of a real metal crowd at Rock Hard Festival was THE happening of the weekend for me personally. Retro is the future!"
Uwe Lerch / iM1 (GER)
"ORCHID played one of the most amazing gigs of Rock Hard Festival!"
Conny Schiffbauer / WDR Rockpalast (GER)
"They restored the sound of early doom on stage just as they did on record!"
Frank Schäfer / ROLLING STONE (GER)
"ORCHID – the new heroes of doom!"
Christian Fischer / PIRANHA, CLASSIC ROCK (GER)
"… sheer and pure energy!"
Wolfram Hanke / RCN (GER)
"The third day of Berlin's Desertfest, the San Francisco band stepped up to fill the headlining slot of the mainstage. They undoubtly fillout this spot! Maybe it's the performance's authenticity, maybe it's the great songs ORCHID write."
Jan Schwarzkamp / VISIONS (GER)
"…an excellent sounding band!"
Paul Schmitz / CLASSIC ROCK (GER)
"ORCHID on record already is a real big rock entertainment, but live they really deliver the goods. Theo Mindell's singing is just stunningly electrifying and Mark Thomas Baker is the riff master of vintage rock!"
Jürgen Tschamler / EMP, CLASSIC ROCK (GER)
"ORCHID are a rightful headliner. Flawless sound, great setlist. An amazing gig of a band that may come back soon!"
Frank Wilkens / METALNEWS.DE (GER)
"…without a doubt a highlight of the Rock Hard Festival! On this weekend barely another 45 minutes went as fast as during this gig."
Colin Brinker / METAL.DE (GER)
"The band featuring Morrison/Ozzy act-alike Theo Mindell just works brilliantly in every situation. Be it a headlining show or the triumphant gig at Rock Hard festival in front of a metalhead only crowd. ORCHID are the band of the moment!"
Reini Reither / STORMBRINGER.AT (AT)
www.orchidsf.com | www.facebook.com/orchidsf | www.nuclearblast.de/orchid