ORCHID – entire »The Mouths Of Madness« album available for streaming!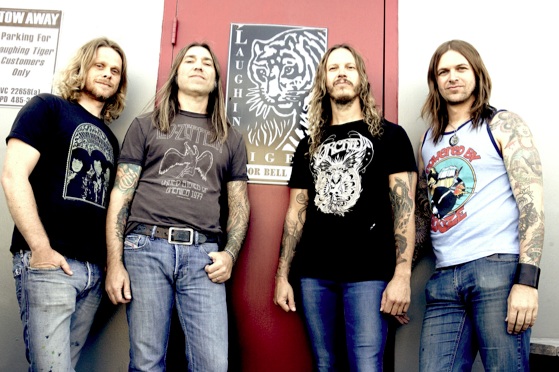 British METAL HAMMER has made the entire new ORCHID album »The Mouths Of Madness« available for streaming at their homepage – surf to: http://www.metalhammer.co.uk/news/orchid-exclusive-album-stream-the-mouths-of-madness

»The Mouths Of Madness« is going to be released April 26, 2013 via Nuclear Blast.
Pre-order your CD/Vinyl copy via http://smarturl.it/Orchid
As an appetizer for »The Mouths Of Madness«, ORCHID recently released the exclusive 10" vinyl EP »Wizard Of War«, containing a brand new track, a rare bonus track as well as one song off the band's stunning debut album »Capricorn«. The EP can also be purchased via the above link.
ORCHID have been named "The best and most important doom band of the past five years" by ROCK HARDGermany's chief in editor Goetz Kuehnemund and BEHEMOTH's legendary mainman Nergal stated "BLACK SABBATH should do an album like »The Mouths Of Madness«!"
Also check out:
Under The Influence w/ Carter Kennedy: http://youtu.be/8ylnfdi8aEM
Under The Influence w/ Mark Thomas Baker: http://youtu.be/AJs2UvN6yiE
Under The Influence w/ Keith Nickel: http://youtu.be/Wn_rn9xLEbQ
Album trailer 1: http://youtu.be/zNslhPDg_Jg
Album trailer 2: http://youtu.be/fPZpjCemApY
'Wizard Of War' lyric video: http://youtu.be/K0nFQxXmmx4
'Capricorn' music video: http://youtu.be/hTygdeTwZ9U

WITCHCRAFT
ORCHID
FREE FALL
26.04. D Lichtenfels – Paunchy Cats
27.04. D Berlin – Desertfest
28.04. PL Warschau – Progresja
29.04. PL Krakau – Lizard King
30.04. A Wien – Szene
01.05. D Darmstadt – Steinbruch Theater
02.05. D München – Backstage Halle
03.05. D Siegen – Vortex
04.05. F Paris – Trabendo
06.05. NL Tilburg – O13
07.05. CH Aarau – Kiff
08.05. F Luynes/Aix – Le Korigan
09.05. E Barcelona – Razzmatazz 3
10.05. E Madrid – El Sol
11.05. E San Sebastian – C.C. Intxaurrondo
12.05. F Toulouse – Le Saint des Sains
13.05. I Milano – Lo Fi Club
14.05. I Rome – Traffic Live Club
15.05. I Bologna – Freak Out Club
16.05. A Dornbirn – Schlachthaus
17.05. D Stuttgart – Universum
18.05. D Hamburg – Markthalle
19.05. D Gelsenkirchen – Rock Hard Festival (ORCHID ONLY)
21.05. UK London – Underworld (ORCHID ONLY)
www.orchidsf.com | www.facebook.com/orchidsf | www.nuclearblast.de/orchid