The Melodic Rock newcomer PARIS is made up of Frédéric Dechavanne and Sébastien Montet. The duo took its songs to Alessandro Del Vecchio (Lionville, Hardline, Issa), who produced the catchy rocking AOR of the PARIS debut "Only One Life" with the help of an international line-up of studio musicians including Anna Portalupi (Lionville, Hardline) on bass, Alessandro Mori (Mitch Malloy, Lionville) on drums, as well as Robert Säll (Work Of Art / W.E.T) on guitar and Steve Newman (Newman, Big Life) on backing vocals.
The band is now presenting its debut record which was released on April 12th through the Avenue Of Allies label in a video trailer, which can be watched here: http://youtu.be/QKJKjzuMi2c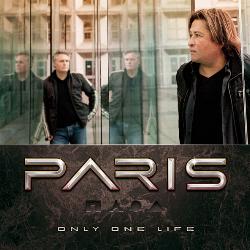 The album is available as CD from well-assorted record stores and worldwide from various mailorder companies as well as the big online retailers. "Only One Life" is also available as HQ digital download.
What the international press says about "PARIS – Only One Life" :
"The songs invoke all sorts of aural responses which reads like an AOR cookbook. Reference points include Journey, Ransom, Blanc Faces, Work Of Art and Toto to my ears." (George Thatcher, GloryDazeMusic, Australia)
"The album features a solid tracklist epitomizing the AOR genre…"Only One Life" is a very promising debut release from Paris" (Brent Rusche, Fireworks, UK)
The album delivers very catchy Melodic Rock in the vein of NEWMAN albums like "Heaven Knows" and "Dance In The Fire". (AOR Heaven, Germany)
"Paris main men Frédéric Dechavanne & Sébastien Montet have crafted some solid tunes especially "South of Love" and "Every Time You Walk Away" which evoke memories of a different time and place i.e. the 1980s" (Simon Bray, Sea Of Tranquility, USA)
"The songs will remind you of the usual suspects from the Melodic Rock/AOR genre, like Survivor Toto, Bon Jovi, Blanc Faces, Philip Bardowell , but also Don Henley and 38 Special (while Max Carl was in their line-up)". (Daniel Daus, Rocktimes, Germany)
"All in all a creditable debut that will make France more visible on the map of AOR" (Maarten van Mameren, Aardshock, The Netherlands)
"Lovers of 80s based AOR, Westcoast and Melodic Rock will lick their lips or better said their tender ears in anticipation for this new project from France" (Rock Meeting, France)
"It sounds of classic AOR with the catchy choruses, the melodic verses, the keys and all of that…. This album rocks, that is one thing you can say about it." (Daniel Källmalm, Hallowed, Sweden)
"What we have here is a collection of truly catchy melodic rock tunes … Summing this album up I would say if the two friends can come up with another batch of songs this good… the future for Frédéric and Sébastien will take them higher than the Eiffel Tower!" (Dave Prince, Überröck, UK)
www.facebook.com/pages/Paris-official/119011491619131