REVAMP: New album in the making!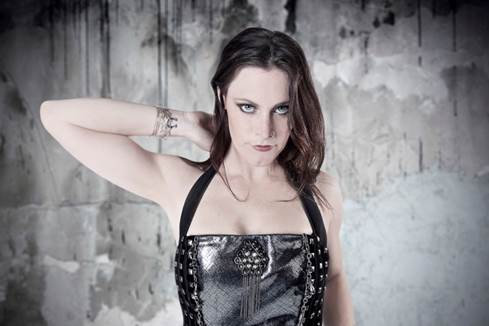 In the few years of ReVamp's young existence the band endured many challenges and unexpected circumstances. Heavy winter storms with long periods of suffocating frost! Followed by sudden summer rains with wild streams of water that's taking everything with it into unknown territory. A survival of the fittest! ReVamp came out stronger, more mature and with darker and more brutal music that tells the tale of this wild ride!
Singer Floor: "Never before in my career I faced a situation like the one we were in with this album. It was a huge challenge because of several reasons. My sickness caused a major break between the first album and tours plus the writing of the first ideas for the second album and the actual finalization of those songs and the album. And right at the moment we started to pick everything back up after I was sick I joined Nightwish. Like a winter and a summer storm, they bring unexpected things, some nasty ones and some amazingly wonderful!
Also the recording of this album was unlike any I did before because I was on tour with Nightwish most of the time. Guided by Joost van den Broek (ex-After Forever, songwriter first ReVamp album) the talented musicians of ReVamp recorded all the instruments and when I came back to The Netherlands I stepped into the studio to find a rough diamond. A shiny dark crystal: ready for my vocals. That was magical! The singing went smoother than ever before. The lyrics are like a roadmap through our storms and through my personal detours and horrors.
The result of this trial will be released on album in September 2013. With pride we can announce our partner in crime from the first album will again join forces with us! Metal and rock giant Nuclear Blast will again make sure ReVamp's new album reaches YOUR music collection wherever you are on this metal loving planet!!!
Floor: "Nuclear Blast knows about storms and their metal heart beats like ours. I am very exited they will release this album! The team is so good and with such great people I have no doubts our cooperation will again be fantastic."
When will ReVamp's second album reach you?
September 6: Europe
Sepember 9: UK
September 12: Japan
September 17: US
Homepage: www.revampmusic.com
ReVamp Facebook: http://www.facebook.com/ReVamp
ReVamp Twitter: https://twitter.com/ReVampOfficial
Nuclear Blast: http://www.nuclearblast.com/revamp
NB Facebook: http://www.facebook.com/nuclearblasteurope
NB USA Facebook: http://www.facebook.com/nuclearblastusa