REVAMP – reveal tracklist, guest musicians and new album trailer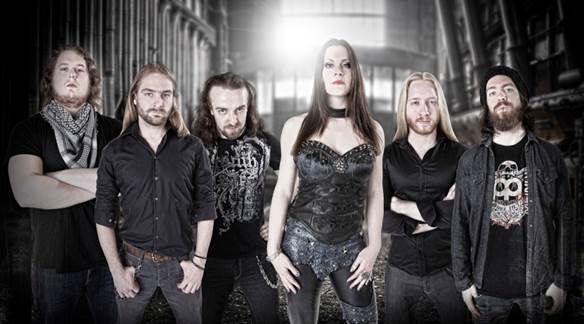 Dutch metalact REVAMP will release their brand new, second album »Wild Card« on August 23rd through Nuclear Blast.
Today REVAMP release their new album trailer, where vocalist Floor Jansen is talking about the guests musicians playing on the record.
Enjoy here: http://www.youtube.com/watch?v=oeOyS0CkdSg&feature=youtu.be
The tracklist of »Wild Card« looks like this:
01. 'The Anatomy Of A Nervous Breakdown': On The Sideline
02. 'The Anatomy Of A Nervous Breakdown': The Limbic System
03. Wild Card
04. Precibus
05. Nothing
06. 'The Anatomy Of A Nervous Breakdown': Neurasthenia
07. Distorted Lullabies
08. Amendatory
09. I Can Become
10. Misery's No Crime
11. Wolf and Dog
Bonus track:
12. Sins
Those are the guest musicians on the record: Mark Jansen (EPICA), Marcela Bovio & Johan van Stratum (STREAM OF PASSION), Daniel de Jongh (TEXTURES) and… Devin Townsend!
The result lives up to its name »Wild Card« in every single second! Regarding this, Floor explains: "This album became the most aggressive album I've ever made and in the lyrics I tell a lot about my personal experiences of the last years. This resulted into some heavy stories and some openhearted 'screams' I needed out of my system. It matches the violence of the music in a great way, we wrote as a great team! But not one sentence or word can really cover the contents of this album. Its variety in all its ingredients makes it almost impossible. A wild card is an unpredictable and unforeseeable factor. You don't know what you're getting, or when. That's this album! It's 100% ReVamp and it's your wild card!"
Brace yourselves for one hell of a ride – 'cause REVAMP has more than one ace in the hole!
1st Trailer: http://www.youtube.com/watch?v=eTRu7wENzIA&feature=youtu.be
2nd Trailer: http://www.youtube.com/watch?v=oeOyS0CkdSg&feature=youtu.be
www.revampmusic.com | www.facebook.com/ReVamp | www.nuclearblast.de/revamp