Singer, actor and best-selling author :
Rock icon RICK SPRINGFIELD to release in Europe his new album
« Songs from the End of the World »
on Frontiers Records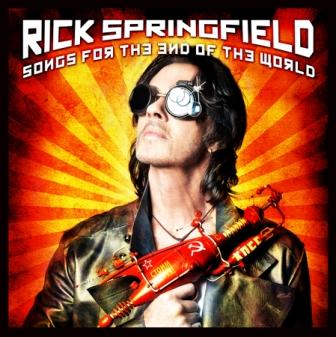 For all his accomplishments as an actor, a best-selling author and the subject of a recent documentary, RICK SPRINGFIELD's first love has always been music, since the first time he picked up a guitar at the age of 12 in his native Australia. That passion for writing and performing songs, as well as playing guitar, comes through loud and clear on his new album, "Songs for the End of the World" which gets a European release on Frontiers Records  on November 2nd.
Collaborating on songs like the three-chord rocker "I Hate Myself," the anthemic "Our Ship's Sinking," "Love Screws Me Up" and "Depravity" with his bass player Matt Bissonette, Springfield sets his sights on the possibilities of escaping the current, apocalyptic world situation in our closest relationships. In doing so, he employs the kind of self-effacement and ability to poke fun at himself as he demonstrated when putting his dog Lethal Ron on the cover of Working Class Dog or spoofing his image by playing a sleazy, drug-and-sex-crazed version of himself on Showtime's dark comedy "Californication".  John Waite and Mr. Mister's Richard Page appear as backup vocalists, along with Rick's original guitarist, Tim Pierce, who hasn't played on record with him since 1999's "Karma".
"There's real feeling in it, but you can't write about that stuff too seriously," he says of his sometimes tongue-in-cheek approach to serious subjects. "In the end, it's about the world in flames, but from a personalized viewpoint. I take what's happening to me and place it in a universal context. It's what I've always tried to do with my songwriting."
With 25 million albums sold, 17 U.S. top-40 hits, including "Don't Talk to Strangers", "An Affair of the Heart", "I've Done Everything for You", "Love Somebody", and "Human Touch", as well as a 1981 Grammy® Best Male Rock Vocal win for his No. 1 single hit "Jessie's Girl" behind him, Springfield has more to say with his latest new release, "Songs for the End of the World".
Still playing nearly 100 live shows a year, Springfield's bond with his audience is the subject of the recent documentary An Affair of the Heart, which came out earlier this year, winning special jury awards at both the Nashvilleand Florida Film Festivals. He also recently wrote and recorded a new song with Dave Grohl (Foo Fighters / Nirvana) as well as being a featured guest in Grohl's new documentary about "SoundCity," the fabledSan Fernando Valley recording studio.
His 2010 autobiography, Late, Late at Night…: A Memoir, for Simon & Schuster's Touchstone imprint, entered The New York Times best-seller list at No. 13, hitting the Los Angeles Times and Publishers Weekly lists as well, with Rolling Stone recently naming it one of the Top 25 rock autobiographies of all time. In the book, Springfield revealed the life-long depression he's battled throughout his career, a theme he returns to in such songs as "I Hate Myself" and "Love Screws Me Up." "I'm not the shiny, happy guy people think I am from my role in General Hospital," insists Springfield. "I tend to put that angst into my music."
With "Songs for the End of the World", Rick Springfield continues to do what he does best—applying his sardonic view to life as we live it today, offering a ray of hope in the midst of all the turmoil.
"The darker side of my nature creeps in and out, but so does a degree of optimism," he says. "In the end, I believe that solace and healing can be found in the presence of someone who understands, loves and accepts you for who you are, even while these looming threats remain."
                Tracklisting of the European edition of  "Love Songs for the End of the World" includes:
Wide Awake; Our Ship's Sinking; I Hate Myself; You And Me; Gabriel; A Sign of Life; My Last Heartbeat; Joshua; Love Screws Me Up; I Found You; Depravity; One Way Street ; Let Me In (Bonus Track); My DUI (Exclusive Bonus Track).
The Bug – album only I-tunes exclusive track
                The first single "Our Ship's Sinking" which features John Waite and Mr Mister's Richard Page on background vocals can be streamed in its entirety on the Frontiers Records webradio www.frontiers.it/webradio
Weblinks: www.frontiers.it  /  www.rickspringfield.com
RICK SPRINGFIELD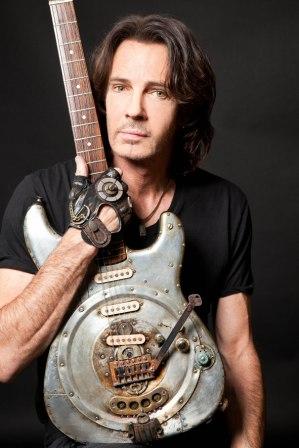 Rick Springfield: Guitars, Lead Vocals
Matt Bissonette: Bass & Keyboards, Background Vocals
George Bernhardt: Guitars
Rodger Carter: Drums
Additional Guitars: George Nastos, Dan Strain, Tim Pierce
Additional percussion: Ronnie Grinel
Additional vocals: Richard Page on 2,7,12
Additional vocals: John Waite on 2